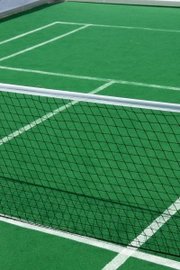 By RENALDO DORSETT
Sports Reporter
rdorsett@tribunemedia.net
A GLOBAL shift in the rules governing youth tennis will have a direct impact on the development of the game locally, bringing a wider cross section of newcomers to the sport.
According to Bahamas Lawn Tennis Association president Derron Donaldson, this is the goal of his association as they launch the Bahamas' branch of the International Tennis Federation's "Play and Stay" Programme this weekend.
From 9am to noon on October 6, Rawson Square will be transformed to a tutorial grounds in Mini Tennis, free to all children between the ages of five and 10.
The new initiative will feature smaller rackets, smaller courts, and slower balls tailored to the skills of beginning tennis players.
Beginning in January, it will be mandatory for competition for players aged 10-and-Under to be played with slower red, orange and green balls on the appropriate sized courts, while the traditional yellow ball will no longer be permitted for 10-and-under competition.
"This will be the ticket to strengthening and developing an already strong junior development programme. In this format, tennis is at its easiest to learn, its inexpensive, can be played on a wide variety of surfaces so we can target an even greater number of kids and get them into the sport as fast as possible.
"The goal is to bring them into the sport, have them experience relative success rather quickly and make the game as interesting and attractive as possible to them at a young age. If we can bring about 50 kids to each free outing of mini tennis we host, there may be about 10-15 natural talents in that crowd that will stick with the game, hence the 'Play and Stay' theme coined by the ITF," Donnaldson said.
"Hosting in Rawson Square is another aspect that was important to us. With this initiative we wanted to introduce it as big as possible, and it doesn't get much bigger than the center of attention in Rawson Square. It can even become a tourist attraction downtown. Tennis has a stigma of being seen as an elitist sport, but particularly at this young level we want to really show that it is open to everyone. Tennis is one of the only sports where kids and beginners were expected to play by the same rules and with the same equipment as adults so this represents a welcome change."
The ITF's Tennis Play and Stay campaign centres around the slogan "serve, rally and score" and the recommendation that starter players play the game outright from their first lesson.
The campaign is supported by the top ITF nations and professional players, including Roger Federer, Rafael Nadal and Justine Henin, as well as the equipment manufacturers.
The campaign aims to retain more starter children and adults in the sport by improving the way in which coaches worldwide introduce tennis to starter players, ensuring their first experience is both positive and enjoyable. "This is our first major event and of course the goal is for massive support and attention as the first step, and eventually getting the mini tennis programme in schools. The BLTA hosted a 'Play and Stay' course for 25 teachers last November as the first step toward the inter-school competitions," Donaldson said.
"We are in talks with sponsors to be able to outfit those 25 schools with equipment packages which will include rackets, balls and other supplies. The ITF will assist once they see the BLTA making steps in the right direction, but the first step is to garner interest among the young players and get the programme started in earnest this weekend."
Other rule changes to the game will include a one match tiebreak to 7 or 10, best-of-three match tiebreaks to seven, one short set (first to four games), best of three short sets (also first to four games), tiebreak instead of a third set and no ad scoring (play one game point at deuce).