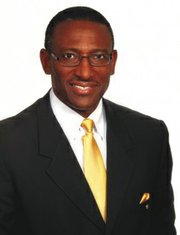 By SANCHESKA BROWN
Tribune Staff Reporter
sbrown@tribunemedia.net
AGRICULTURE Minister V Alfred Gray said yesterday all but a handful of Arawak Cay and Potters Cay vendors had signed agreements to settle their rent arrears.
Mr Gray said he was pleased the vendors were cooperating and he expected the few who have not entered into agreements to do so by the end of the month.
"I am very pleased with the responses and the preliminary position which I just saw yesterday suggests that there are just a handful, no more than five or seven I understand, that have not entered into any arrangements yet but they have agreed to do so by the end of the month. That was a few days ago, so they may have done it by now and I have not gone into seeing whether they have in fact done it because I myself have been busy with some other things," he said.
"I can assure you that we have no intention of making life difficult for anybody but we will expect their compliance with the agreement which they made with this ministry. We expect them to do what is right."
Mr Gray said vendors from Arawak Cay wishing to pay their arrears should go to the Department of Lands and Survey in East Bat Street and those at Potters Cay should go to the Ministry of Agriculture.
In September, Mr Gray warned vendors that failing to sign agreements to bring overdue rent balances up to date would lead to a police-enforced shutdown of businesses on Potters Cay and Arawak Cay.
The warning came after a recent meeting in which Mr Gray said several hundred vendors and their associations agreed to a monthly payment scheme to settle arrears.
At the time, officials asked vendors to pay either $100 or $200, depending on where their business was located.
He added that records have shown some vendors with arrears amounting to $30,000 or $40,000, accumulated over a seven or eight year period.