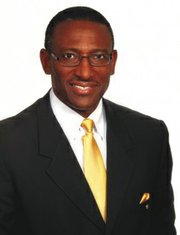 By SANCHESKA BROWN
Tribune Staff Reporter
sbrown@tribunemedia.net
A MINISTER has denied firing the FNM candidate for North Abaco after the PLP became the government in May.
Local Government Minister V Alfred Gray said yesterday there was no way that he could have fired Greg Gomez because he was not Minister of Local Government at the time.
Shortly after officially nominating for the North Abaco
constituency, Mr Gomez claimed Mr Gray "fired him" and then ignored and avoided his calls.
Mr Gomez said he was an Island Administrator in Marsh Harbour for two months before the last election but after May 2 he was told by the undersecretary in local government that Mr Gray did not want to keep him because he was a "red" and an "FNM."
Mr Gomez said he attempted on numerous occasions to meet with Mr Gray, including sending a formal request to continue his job, but Mr Gray never responded.
Speaking at a press conference yesterday, Mr Gray said: "Mr Gomez made the statement that he had come to see me by way of some appointment and I refused to see him and instead he was seen by Mrs Glinton, who told him that he would not be appointed in this ministry because he wore the colour red.
"For the record first of all, I am advised by Mrs Glinton that Mr Gomez did come to this office on May 10, 2012 and that was three days before I was appointed minister.
"I was appointed minister on May 14 so for him to say that he had an appointment with me has to be wrong because I was not even in office at the time he came to see whoever the minister was at that time and, of course, because no minister was in post at the time he saw Mrs Glinton," he said.
"Now I am further advised that Mrs Glinton did speak with him but at no time during the conversation did she use my name as minister as he purportedly said.
"He said that she said that I said he could not be appointed in this ministry because he wore the colour red.
"Mrs Glinton is here and
she has expressly denied having that kind of conversation with him."
Mr Gray also claims that Mr Gomez was never an Island Administrator for Abaco, but was instead employed in the local government office in Marsh Harbour with the 52-week programme.
He added: "Finally I want to say this. Despite what may have been said by Mr Gomez, we hold no ill will against him and I would like for him to remember that the truth is always going to set you free and no amount of words against me and/or my ministry or the personnel that work in it will advance his political cause, especially when those things are not true.
"He could go after me, I have no problems with that because I am prepared to take on anybody who is willing to take me on
politically because that's what I am.
"I am a politician and I am prepared to do what is required of me in the political arena to defend my name and/or the things I do, but I do not want innocent public officers to be drawn into this debate because it's not fair to them. She is here and cannot speak for herself and that's why I say it's not fair to bring public officers into these political debates and I'll say no more on that issue."