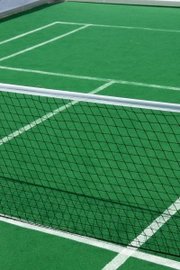 By BRENT STUBBS
Senior Sports Reporter
bstubbs@tribunemedia.net
While Dentry Mortimer has moved on with a new position as the pro tennis coach at the Gym Tennis Club in Winton Meadows, the Bahamas Lawn Tennis Association (BLTA) has announced that the former first vice president and director of their junior development programme has been replaced by Kim O'Kelley and Giorgio Baldacci.
BLTA president Derron Donaldson had promised after Wednesday's meeting to explain the reason why Mortimer was terminated. But in their first release since the episode, the BLTA only stated that they were on a restructured approach to serving its membership.
The release states that the BLTA will re-launch an affordable junior development programme this month under the administration of O'Kelley and Baldacci. O'Kelley and Baldacci were named as co-replacements for Mortimer when he was relieved of his role as the junior programme director last week.
His role as first director, however, was not filled.
"Giorgio and Kim bring more than 80-plus years of experience to the programme as coaches and administrators," the release read. "Junior tennis is the life blood of every successful tennis nation and the BLTA is committed to ensuring our juniors get the necessary exposure to develop their skills to the best of their ability."
Mortimer, on the other hand, said everything in life happens for a reason and purpose and he looks forward to a new beginning and a blessing in his life. He thanked all who supported him in the past and he looks forward to continuing to make his contribution to the development of the junior players in the future.
"I believe that the Gym Tennis Club is the perfect location for me to enhance my junior developmental programme and an opportunity for tennis to grow on all levels locally," he said. "In the upcoming weeks, I will be introducing new programmes and tournaments for all ages and I encourage you to participate with me.
"The Gym Tennis Club is a membership club with great benefits and becoming a member will be an advantage for all. Participation in my programme does not require membership, but registering as a member will be an asset to you and your child. Log on to www.gymtennisclub.com for additional information in this regard."
The Gym Tennis Club is located on Rugby Drive, Winton Meadows. It has six clay tennis courts, a clubhouse, restaurant and a concession stand.
From Monday through Saturday, interested persons can participate in one hour or 30 minute lessons with Mortimer.
While both Mortimer and the BLTA have moved on, the BLTA also announced in their release a series of updates regarding the future of the association under the presidency of Donaldson.
COACHING COURSES
The BLTA congratulated Bradley Bain on successfully completing the International Tennis Federation (ITF) Level 2 coaching course. Bain joins touring pro and Davis Cup team member Marvin Rolle as the only Level 2 coaches in the Bahamas.
"As a result of having two Level 2 coaches, more educational opportunities will be afforded to local coaches by the ITF," the release stated.
The BLTA also announced that Allan Ashwood, former junior standout and local coach in Freeport, Grand Bahama, will attend an ITF/OS Regional Specific Theme Course in Antigua & Barbuda October 18-24.
In other BLTA news, a level one (1) Coaching Course for approximately 25 coaches to become certified tennis professionals will be hosted at the National Tennis Center and will be funded by Olympic Solidarity. Specific details will be released shortly, according to the BLTA.
At the same time, the BLTA will be sending two of our outstanding female players and now coaches, Nikkita Fountain and Larikah Russell, to attend the annual ITF/COTECC regional coaches conference in Mexico September 19-22.
SHEPHERD
TO ATTEND
COTECC CAMP
Iesha Shepherd, the 13-year-old No. 1 under-14 girls player, joins a long list of outstanding Bahamian junior tennis players who have been selected by the International Tennis Federation to attend the annual ITF/COTECC Caribbean Regional Training Camp. Shepherd is scheduled to attend this year's camp in Trinidad and Tobago October 5-14th.
FOCOL TOURNEY
The annual Focol Junior Tennis Tournament is slated to be held in Freeport, Grand Bahama, October 19 -22. It is a BLTA sanctioned event where players get ranking points in their age groups. The tournament is played at the Lucayan Towers tennis courts and the director is Godfrey (Gully) Bowe.
ITF TOURNEY
The BLTA will once again host the ITF Goombay Splash Bowl for the second consecutive year. The tournament, which has now become a major stop on the ITF junior tennis tournament circuit, is all set to be held November 24 to December 1 at the National Tennis Center.
"This event gives our local players an opportunity to test their skills against their international counterparts," the BLTA said. "We are still looking for our first local player to capture the singles championship."
The tournament director is Bradley Bain and the ITF Referee & COTECC supervisor is Mickey Williams.
SENIOR NATIONAL
Although no dates have been confirmed, the BLTA has announced that its annual BLTA Senior Nationals will be held in October and the invitational tournament will be in December. Official dates will be announced at a later date.
"The BLTA will be meeting with its corporate sponsors and government during this month to share its five year business plan which sets out our tennis development goals to grow the game of tennis in the Bahamas and we look forward to the continued support of the public at large," the release said.