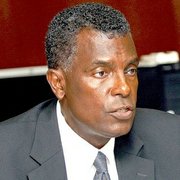 THE BAHAMAS-American Association Inc has announced its plans for the celebration of the organisations's 100th anniversary.

Association president William Dames said the highlight will be the Gala Grand Ball, to be held Saturday, September 15 at the famous Astoria World Manor in Astoria, New York.
At the Ball, the BAAI will recognise a number of Bahamians and Bahamian-Americans for their contribution to the growth and development of the association over the years.
The awardees will be: A Missouri Sherman-Peter, first Consul General of the Bahamas at New York; Rev Dr Yvonne Collie-Pendleton, J Machelle Sweeting, Dorea Rolle, Martin Burrows, Adrian Whylly, Johnny Kemp and the Bahamian-American Association of Pennsylvania.
Mr Dames said the BAAI is "proud to be the successor of the Nassau Bahamas Association, one of the oldest fraternal associations in the State of New York. The association was founded 17 September 1912 by 10 Bahamian men who had made the United States their new home.
"The founders of the association trace their roots to many of the islands of the Bahamas, including New Providence, Andros, Abaco, Cat Island, Eleuthera, Exuma and Long Island. In 1922, Bahamian women took their place as members of the Association."
Mr Dames said that the BAAI is deeply appreciative of the co-operation and support it received from the Bahamas government over the years, including through the Consulate General of the Bahamas in New York.
He said that the executive and membership of the BAAI are looking forward to welcoming high-level members of the government to the Gala Grand Ball.
Minister of Foreign Affairs and Immigration Fred Mitchell will deliver the keynote address.