By SANCHESKA BROWN
Tribune Staff Reporter
sbrown@tribunemedia.net
BISHOP Simeon Hall accused National Security Minister Dr Bernard Nottage of being vocal about crime while he was in opposition, but failing to deliver now that he is in office.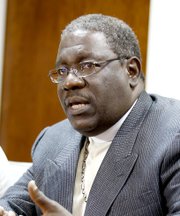 He made these comments as New Covenant Baptist Church placed the names of murder victims on a memorial wall in front of the church.
Bishop Hall said the recent attacks on officers and the 28 murders for the year are "frightening indicators" that crime is out of control.
"A political party, while in opposition seems to have more to say about crime than when that same party comes to government. Dr Bernard Nottage said more about murder while seeking office than he is saying now as Minister of National Security. All Bahamians remember those graphic signs around town by the PLP decrying the murder rate right before the last election," he said.
"The promise to put a major dent in crime has not been delivered – regardless of what the statistics say. Today's criminals have sunk to brutish savagery and are not afraid of the law, the police, the court, going to jail or anything anymore."
Bishop Hall said since hanging is out of the question, the government must introduce a "Three strikes and you are out" system.
He said: "Persons with three convictions should be removed from civil society forever. Criminals out on bail are wearing expensive ankle bracelets, committing crime, killing innocent persons and maiming the police. The confusing legal system in this country is a major cause of criminals who are known to police being out – intimidating witnesses and shooting police. I have said numerous things before about crime and I suggest we say to criminals you will be taken from civil society for the rest of your life, three strikes and you are out."
On Tuesday, Commissioner of Police Ellison Greenslade said serious crimes dropped by 13 per cent from January 1 to April 15 2013 compared to the same period last year.
Commissioner Greenslade said crimes against the person are down by one per cent and crimes against property have decreased by 19 per cent.