A HUMAN rights attorney has told police he believes billionaire Louis Bacon "is not safe in Nassau," claiming he was told Mr Bacon "would be taken care of."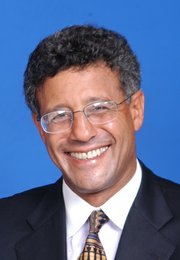 Fred Smith, QC, raised his concern in an official statement to the Commissioner of Police and the Attorney General, following a series of exchanges with a fellow attorney at Jaws Beach.
The 56-year-old, of Freeport, told police he visited the beach at the Clifton Heritage site last Thursday, as part of his responsibilities as an attorney and a director of the Coalition to Protect Clifton Bay.
Shortly after he arrived, he told police, Keod Smith, an attorney and former PLP MP, arrived and exchanges took place between the two men, and men who were milling about and were involved in the construction of a new dock.
Fred Smith claims he eventually "feared for his life" after the exchanges and left the site. He then made an official statement to police, telling police: "After Keod's arrival I began to feel more endangered, threatened and frightened. As Keod's haranguing me became more and more heated and his attacks on me increased and his inciting the workers to do me harm increased, I became more and more and more frightened.
"I no longer feel safe. During the course of his exchanges Keod made it plain I was not welcome in Nassau.
"I must also say that I consider Louis Bacon is not safe in Nassau as he [Keod Smith] repeatedly said he was going to take care of Mr Bacon and me.
"He said that before Keod Smith was finished he would make sure that Louis Bacon was jailed in Fox Hill Prison and said 'I have a big six-foot black man that is going to take care of Bacon when we get him into Fox Hill.'"
Fred Smith told police he arrived around 1:15pm, spoke to several men and took pictures and video of the scene and says there was a banter between him and the men before he decided to leave shortly afterwards.
As he was walking back to his car another vehicle approached, which he claims was carrying Keod Smith and a driver, who both got out.
"He was heated about my being there. He was also angry about my filming and came over to me and demanded that I delete what I had just filmed. He became very aggressive and as he did so, all of the workers began to congregate around me in a threatening manner," Fred Smith told police.
"I was at my car, and Keod Smith began almost a continuous flow of insulting verbal abuse and haranguing and threatening language which annoyed and offended me considerably," he added, saying that he tried to calm things down.
"His group of workers were all watching and each of them took up and were holding either a large stick or branch, a hammer, a crow bar, a long piece of bent steel or other potential weapon," Fred Smith told police.
He said as the exchanges went on, Keod Smith would "periodically become very aggressive and very angry and pushed himself up into my chest several times."
"Shortly after Keod came I recall that I did touch Keod in a gesture of friendliness either to shake his hand or to put out my arm towards him....it was not a gesture by me which was an assault, threat, or attack," said Fred Smith.
Mr Smith told police that at one stage he tried to leave, "but Keod said that I was on his beach now and that I could not just decide to leave, I could only leave when he told me I could leave."
"I got into my car and tried to move it but he told the workers to surround the car and he stood directly behind the car and prevented me from moving," he told police.
The car couldn't go forwards or backwards, and Fred Smith got out, telling police, "I stood at the back of my car to give myself some protection from the back," before he got back in again.
"I was very frightened for my life at this stage and the car was surrounded by all of his men. Keod had a big stick about four feet long and all of the others were brandishing their weapons of one sort or another, putting me in fear of physical harm."
Fred Smith told police he drove off towards the beach, "one person stood in front with a stick while others started hitting the car with their weapons, all the while Keod was shouting 'Don't let him go, don't let him go.''
"As I was managing my way around the tree and they were banging on the car, someone landed a heavy blow, or several, with a steel curved bar and broke the back of my windshield. The smashing, shattering and glass flying into the back of the car terrified me. By that time I knew my life was in danger.
"I was fearful that my life was in danger, because Keod Smith had incited these workmen to riot, disorderly behaviour and to assault, to inflict harm on me and to maliciously cause actual damage to the self-drive rental vehicle which I had, denting the hood in several places and smashing the back windshield."
Mr Smith says he drove off down the street, stopping to get his breath.
In addition to his statement, he provided police with photos and video clips he took relating to the incident.
Keod Smith was not available as The Tribune went to press.