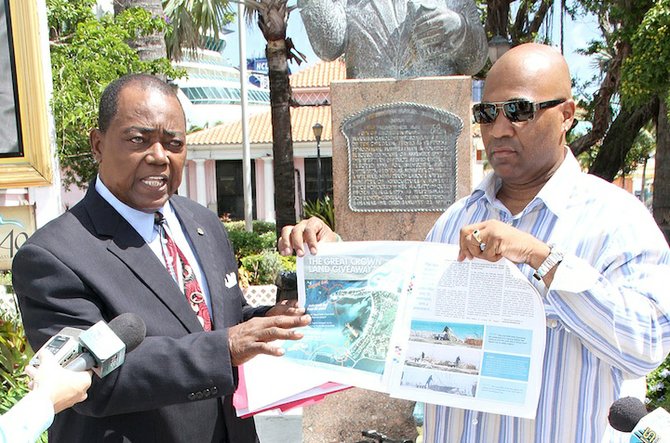 By RASHAD ROLLE
COALITION to Save Clifton president Rev CB Moss said he opted to forgo a $75,000 a year salary working with the Coalition to Protect Clifton Bay organisation after attending one board meeting, as he felt the organisation was focusing too much attention on billionaire fashion mogul Peter Nygard.
Rev Moss made his comments while revealing his email correspondence with Louis Bacon's brother, Zack Bacon, to members of the press in Rawson's Square yesterday.
He claims a hacker published one of the e-mails on the internet earlier this month in which he informed Mr Bacon that he will accept a vice-president's position at the Coalition to Protect Clifton Bay for a $75,000 salary, a vehicle and other benefits.
However, he claims the hacker did not publish an e-mail where he informed Mr Bacon of his decision to decline the offer.
He claims after attending a preliminary board meeting for the organization on March 15th, he rescinded his decision to join the organization in order to focus on preventing the degradation of Clifton Bay and to avoid dealing with an organization that focuses too much attention on Peter Nygard.
"The scope of their project was too broad," he said, adding that his immediate goal remains getting the government to announce its position on whether to lease Crown land to Mr Nygard.
"What you have to realize is that if the lease for the project goes through today, the degradation will continue. When that application is rejected, then you can turn your attention to other things."
"At a board meeting of a large array of people, they were talking about Nygard. I saw where the feud between these people and Nygard was something we didn't want to get involved with. This isn't about Nygard. We don't have any issue with Nygard. Our issue is with the government. We didn't want to get caught with a broad based, personalized thing because that's not our thing. Two weeks after the meeting I sent an e-mail declining the offer so I never was a part of the organization officially."
Rev Moss said he never met Louis Bacon and did not approach Zack Bacon for a job. Many persons – including Peter Nygard – have approached him he said, requesting his participation in their projects.

"Local people approached me and recommended me to Mr Bacon. We have received emissaries from Mr Nygard to give us whatever we wanted, but we declined it, so it's not about money."
He said his dealings with Mr Bacon "was not under the table deal; I was supposed to be the vice-president. That's a full time, full paid, professional business. The benefits asked for in the e-mail published would've been like insurance."
Rev Moss says he's intent on finding out who hacked his e-mail account.
"The hacking was a crime, a criminal act," he said. "I have notifications from Google and Microsoft that my e-mail was hacked. They didn't publish all the information because it would've shown that this wasn't an issue. The police are working on it because the police said get something in writing from Zack Bacon showing he never shared or authorized my e-mail being released."
In one of the copies of e-mails given to the press, Rev Moss asks Mr Bacon if he "released this letter to anyone, or had authorized its release."
Mr Bacon said he never shared or authorized the release of the e-mail.
Meanwhile, Rev Moss says he continues to agitate for the creation of a Clifton sea park and is urging the government to reject Mr Nygard's application to lease Crown land.
"The Coalition to Save Clifton is adamantly opposed to the approval of the lease or grant of this Crown land to Mr Nygard, or indeed to anyone else. In fact we are opposed to the continued existence of this artificially created three acres. The present government's willingness to consider the application was said to be based upon Mr Nygard's plan to build a stem cell facility on the site thereby creating some jobs for Bahamians. Mr Nygard's recent public statement that he will not build his stem cell facility at Nygard's Cay should therefore automatically result in the rejection of the application," he said.