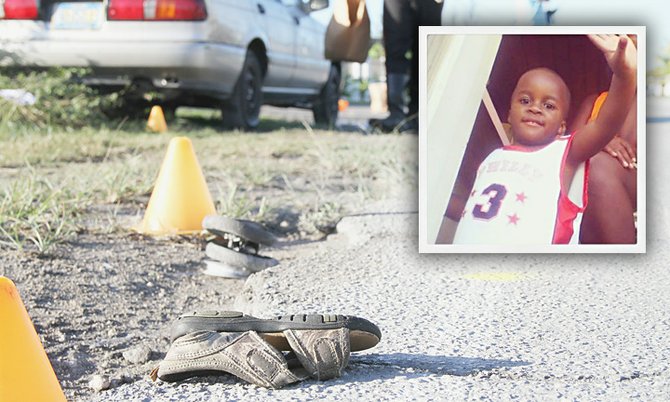 By SANCHESKA BROWN
Tribune Staff Reporter
sbrown@tribunemedia.net
A THREE-year-old boy is dead and his mother is fighting for her life in hospital after they were the victims of a hit-and-run accident early yesterday morning.
It happened around 6:50am.
According to Assistant Superintendent Craig Stubbs, officer in charge of the Traffic Division, the 26-year-old woman was walking on St Vincent Road, with her
toddler in a stroller, when they were hit by a passing vehicle.
"The mother was pushing her male child in a stroller travelling east on the southern side of St Vincent Road when a vehicle travelling west collided into them. The impact of the hit caused the child, in the stroller, to be dragged 200 plus feet from the initial point of impact. The child, was unfortunately, pronounced dead on the scene. The mother had significant head injuries and is in critical condition in the Princess Margaret Hospital. The driver failed to stop."
The Tribune understands the child's name is Rashawn Jodash Kemp and the mother's is Shavandi Russell.
When contacted, the father, Christopher Kemp, was too emotional to comment other than to say he was heartbroken.
However, a family friend, who did not want to be named said Rashawn was the "cutest, most adorable three-year-old, you would ever see."
Police canvassed the St Vincent area and retrieved surveillance footage that they think might lead them to the person responsible. Meanwhile the police have urged members of the public to come forward with whatever information they might have. They have also appealed to the driver of the vehicle to come forward.
Police believe that the vehicle is possibly a dark Honda or an Explorer with front-end damage.
"Based on the evidence we collected from the scene, we are trying to determine the type of vehicle it was. The driver had to have known they hit someone. Based on the indentation from the stroller, they have to have known," ASP Stubbs said.
"We just want the driver to come forward. Just come and say 'it was me, I did it'. Based on their story, what we believe and what we can prove, we will then make a determination on the charges," he said.
Anyone with information is asked to contact police at 911 or 919, the Central Detective Unit at 502-9991 or Crime Stoppers anonymously at 328-TIPS.