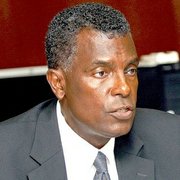 MINISTER of Foreign Affairs Fred Mitchell has ordered his team to prepare a report on the disappearance of three nationals - two Turkish and one Jamaican - who were allegedly being smuggled into the United States via Grand Bahama.
Speaking with The Tribune yesterday, Mr Mitchell said that he has been kept abreast of the developing story through newspaper coverage, adding that he expects to have his ministry's report no later than tomorrow.
The Turkish and Jamaican nationals were part of a group of 19 individuals who went missing on March 10, 2012.
The group had reportedly paid up to $6,000 each to be smuggled into Miami.
The police's investigation into the case has so far revealed that some of the individuals involved in the 'smuggling ring' could include a worker at Lynden Pindling International Airport and a businessman in Grand Bahama.