By LAMECH JOHNSON
Tribune Staff Reporter
ljohnson@tribunemedia.net
A MAN accused of trying to murder a mother, son and nephew was acquitted of triple attempted murder in Supreme Court yesterday when the judge directed the jury to deliver a unanimous not guilty verdict.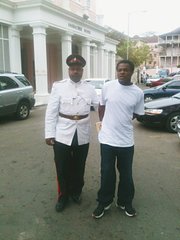 Justice Vera Watkins told the nine-member jury that her direction to them to acquit 27-year-old Rafik Turnquest of Toote Shop Corner was a result of closed discussions between herself, defending counsel and the prosecution the previous day.
The foreman therefore stood and announced unanimous not guilty verdicts on three counts of attempted murder, which prompted Turnquest to look to the ceiling and place his hands together as if in prayer.
The offences were alleged to have been committed on April 8, 2011. It was claimed that he tried to murder Joane Forbes, Jamalio Forbes and Arnold Stubbs.
Last week, Jamalio Forbes opted to withdraw the complaint instead of giving evidence.
Stubbs told the court that on the night in question, it was very dark and he did not see the shooter. Joanne Forbes testified that she left her mother's birthday party with her nephew to drive to Thompson Lane and pick up her son and grandson.
When she and her nephew got to the open lot, she said she saw Rafik Turnquest looking in the direction of the car.
Then she heard "Pap! pap! pap! pap!" and realised that she and her nephew were being shot at, and also realised she was shot.
Dr Collin Bullard, a Princess Margaret Hospital physician, said that if the bullets that struck the female victim that night hit a major blood vessel, she could have bled to death very quickly.
Following the physician's evidence on Tuesday, the prosecution closed its case and the defence asked for closed discussions in the absence of the jury, where a no-case submission was made.
Yesterday, Justice Watkins ruled on those discussions and subsequently called the jury back to court where she directed them to acquit Turnquest of the charges.
After the jury was excused, Turnquest was told that he was free to go baring any other cases pending that warranted his remand to prison.
He said he had a matter dating back ten years ago but had been on bail for nearly nine years in connection with that incident.
Turnquest was defended by Romona Farquharson-Seymour and Candice Hepburn.
Koschina Marshall and Maria Zancolla prosecuted for the Crown.