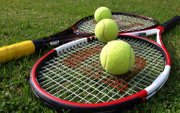 By RENALDO DORSETT
Sports Reporter
rdorsett@tribunemedia.net
It was a promising start for Team Bahamas at the Fed Cup by BNP Paribas Americas Group II as keen singles play propelled the four-member team to wins in their first two matches.
The duo of Simone Pratt and Kerrie Cartwright took each of their respective matches to lead the Bahamas to a 2-1 win over Trinidad and Tobago, and followed with a 3-0 win over Uruguay on day two at the tournament hosted in Santa Teca, El Salvador.
Pratt opened tournament play with a 6-3, 6-4 win over Yolande Leacock and the Bahamas clinched the tie when Cartwright won 7-5, 6-0 over Anneliese Rose.
Rose and Breana Stampfli were able to prevent a three-match sweep for the Bahamas when they defeat Pratt and Cartwright in doubles 6-1, 6-4.
Against Uruguay, Pratt followed with a dominant 6-1, 6-1 win over Jennifer Henriquez, while Cartwright again secured the tie with a 1-6, 6-4, 7-5 win over Rosalinda Recinos.
Danielle Thompson and Larikah Russell completed the sweep in the tie with a 6-3, 6-3 in doubles play.
While Russell, 28, who is the most experienced member of the team, improved her doubles record to 13-7 and 27-14 overall, it was the first Fed Cup appearance for the 18-year-old Thompson.
Pratt, 17, has been playing in the Fed Cup since 2010 and moved to 8-9 all time, 6-7 in singles.
Cartwright, 21, has made several Fed Cup appearances since 2008 and improved to an impressive 9-5 singles record and 13-9 overall. She continues her stellar performance coming off her first season with the Florida State Seminoles where she went 13-6 in singles and 12-7 in doubles.
Pratt is fresh off a singles win in the Girls 18 draw at the 2013 Junkanoo Bowl, where she gained 40 ITF points with the win.
The Bahamas has defeated Trinidad and Tobago in three consecutive ties dating back to 2001. Their last matchup was in 2010 at the Group II matchup in Ecuador where the Bahamas won 3-0.
Ten teams took part on day one of competition hosted at the Maya Country Tennis Club.
At the draw Monday, the teams were divided into two groups and the Bahamas was placed in Group B alongside Uruguay, Dominican Republic, Costa Rica, El Salvador, Trinidad and Tobago.
Group A includes Ecuador, Puerto Rico, Bolivia, Honduras. Other matches on day one included Guatemala vs Honduras, Uruguay vs El Salvador, Ecuador vs Bolivia and the Dominican Republic vs Costa Rica. Only the top two teams will receive promotion to Group I, the remainder of the field will remain in Group II in 2014.
Uruguay won 2-1 over El Salvador and the Dominican Republic defeated Costa Rica 3-0. In Group A, Guatemala topped Honduras 3-0, and Ecuador topped Bolivia 2-1.