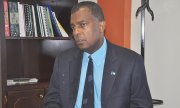 By AVA TURNQUEST
Tribune Staff Reporter
aturnquest@
tribunemedia.net
FOX Hill MP Fred Mitchell yesterday lashed out at a daily newspaper after it published an editorial that lauded the accomplishments of former prime minister Hubert Ingraham.
During his contribution in the House of Assembly, Mr Mitchell charged that the writer of the article published by The Nassau Guardian under the headline "Thank you Hubert Ingraham" was a "worthless sycophant."
Mr Mitchell, Minister of Foreign Affairs, said: "The editorial went on to heap the most fulsome, effusive praise on the former prime minister."
He added: "It was one load of nonsense writing by some worthless sycophant."
The article was published on May 30, and outlined Mr Ingraham's achievements over the course of his tenure.
It read: "Hubert Ingraham's greatest achievement, however, might be the leadership he provided the country in times of crisis. There was never any doubt in the difficult times he occupied the helm of the nation that a true leader was in place. His coordination and discipline of the agencies and departments of government made for a unified government policy posture."
Yesterday, Mr Mitchell said he "respectfully disagreed" with the entire article, and called for the publication to "hear the other side."
"This editorial about praise to Hubert Ingraham indicates a hankering back to an era that will never return, never return," he said. "In fact he was the one who pronounced the end of that era. It was an era of boorishness, insensitivity, hacking people without mercy from their jobs in the public service.
He added: "The fact that the praise of the former prime minister is coming from a commercial entity, which the former prime minister himself described as led by two men who were in his words 'too damn greedy', the owners of the Guardian. The Nassau Guardian says thank you, Hubert Ingraham, this is incredible."
Mr Mitchell also criticized the lack of balance in media reporting, which he said was overtly biased against the PLP.
"I say this in the context with how the press treated the budget," he said, "and the question of whether there is balance when it comes to the PLP. Notice I didn't complain about the bias. It is clear that there is bias against the PLP.
He added: "I am satisfied that the PLP continues to be the best repository of the national interest of the Bahamian people and I certainly am glad to have lived long enough to see the back of Hubert Ingraham, that alone is worth all the trouble on this road less travelled.
"It has indeed made all the difference, The Bahamas is certainly a more civilized place since he is no longer in its public policy."