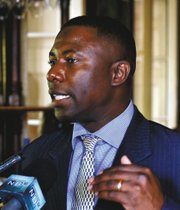 By NATARIO McKENZIE
Tribune Business Reporter
nmckenzie@tribunemedia.net
THE Government is pushing to have at least 40 per cent the Bahamas' energy needs come from renewable sources by 2030, a senior official said yesterday, telling Tribune Business that it "makes good sense" for the country to move in that direction.
Renward Wells, parliamentary secretary in the Ministry of Works and Urban Development, and chairman of the Governmemt's Energy Task Force, told this newspaper that the administration was presently assessing numerous renewable energy proposals.
Mr Wells, who was a panellist during a session at a CIBC FirstCaribbean International Conference on 'Public Private Partnerships in Infrastructure Development and Financing', said: "Renewable energy is really an area that we are going to be pushing over the next five, 10, 15, 20 years.
"We want by about 2030 to have at least 40 per cent of our grid renewable. We have, right now, less than 1 per cent penetration of renewables in the country. For us Bahamians have been living sort of the idea that electricity will always be cheap for us, that we can keep using bunker C, but 2008 was a wake-up call for us.
"Now everyone is saying: How can we get our electricity bills down? We're looking at privatising the actual generation of electricity, so that we can allow grid ties, and persons could be able to tie into the electricity grid using solar.
"That is one of the areas we hope that the banking community and the private sector would be able to come along and assist us, especially on the residential side."
Mr Wells said there is currently no legislation to allow for grid-tie in systems, adding that the Government would have to put the necessary policies and legislation in place.
"Government would have to put the policies and legislation in place for all grid-tie in arrangements," he said.
"The driving force would have to come from the Government in that direction to make it happen with legislation, because the current legislation doesn't allow for that to happen in a meaningful way, meaning that right now as a customer you can put in a renewable energy system but you can't tie it into the grid."
He further explained: "There are grid tie-in systems and grid interactive systems out there. Grid tie-in systems are when you don't have any sort of battery back-up; it's just a solar panel on the roof feeding electricity, and any excess energy is fed to the grid.
"A grid interactive system has a battery storage whereby, when the house is using electricity, some is going out to the grid. Energy is also being stored in the battery so that when the equipment goes down the battery kicks in, and energy is supplied to the house and the grid as needed."
Mr Wells said there were numerous renewable energy proposals presently before the Government.
"There are proposals going on right now," he said. "We were assessing a lot of proposals for both renewable energy and for the Bahamas Electricity Corporation (BEC) with the National Energy Task Force that was appointed.
"There is a report that was drafted, but I don't want to speak too much to its contents because Cabinet hasn't seen it as yet, and Minister Kenred Dorsett hasn't had wind of the final draft.
"Suffice to say we live in a place where we have free energy as it relates to wind and solar, for instance, and so it makes good sense to move in the direction of renewables and see the renewable penetration increase from where it is now."