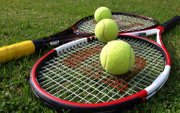 By BRENT STUBBS
Senior Sports Reporter
bstubbs@tribunemedia.net
TEAM captain John Farrington made an adjustment to the line-up, but it still wasn't enough for the Bahamas men's national team to prevail in Zone II of the BNP Paribas American Zone Davis Cup tie.
Farrington moved veteran Marvin Rolle up to play in one of the two singles with Devin Mullings, but they both lost their matches as the Bahamas was blanked 2-0 by Paraguay in the playoff on Saturday to advance to zone II in 2014.
On the final day of the week-long competition at the National Tennis Club in La Paz, Bolivia, the Bahamas suffered its first loss as Rolle dropped a 4-6, 6-4, 6-4 decision to Paraguay's Juan-Carlos Ramirez, while Mullings went down 4-6, 6-4, 6-3 to Paraguay's Juan Borba.
The Bahamas would have had to split the two singles in order to play the doubles. By virtue of losing the two singles, the Bahamas didn't have to play the scheduled team of Rolle and Jamal Adderley, who played doubles all week long.
Rolle moved up to replace Kevin Major, who was the No.1 seeded player on the team, to play singles with Mullings, who played at No.2.
Major was a late replacement for Timothy Neilly, who got injured prior to the team leaving for Bolivia.
The Bahamas had a chance to go undefeated in the round robin play and pushed their stakes higher for a shot at getting promoted to zone II, but a change in the line-up resulted in a 3-0 lost to Costa Rica.
Adderley lost 6-4, 7-6 (5) to Costa Rica's Maurizio Feoli and Major was beaten 6-0, 6-4 by Costa Rica's Pablo Nunez.
In doubles, the team of Adderley and Rolle lost 7-5, 6-2 to Fecoli and Alan Reifer.
The Bahamas went into the playoffs at No.2 behind Costa Rica. They went the top two teams out of pool A with Paraguay knocking off the Bahamas and host Bolivia turning back Costa Rica.
Both Paraguay and Bolivia have moved up to zone II, while the Bahamas will remain in zone III with Honduras (fifth), Jamaica (sixth), Cuba (seventh) and Panama (eighth).
Prior to losing to Costa Rica in their last game of their round robin, the Bahamas won 2-1 over Panama in their first game. They beat Honduras by the same score before blanking Bermuda 3-0.
The Bahamas was hoping to advance to zone II where it last played in 2009 when the team of Mullings, Neilly, Rolle and Bjorn Munroe, captained by Farrington, lost 3-2 to Guatemala in the relegation match at the National Tennis Center.
The same team lost 4-1 to Paraguay in the first round in Lambare, Paraguay.