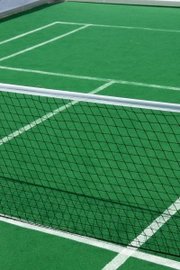 By BRENT STUBBS
Senior Sports Reporter
bstubbs@tribunemedia.net
Team captain John Farrington said the public should be proud of the Bahamas men's team that fell one match shy of advancing out of the American Zone III Davis Cup tie in La Paz, Bolivia, over the weekend.
Although the Davis Cup website has the Bahamas finishing second in pool B at 3-1 with a 3-0 loss to Costa Rica in their final match on Friday, Farrington said it was an error that should have had the results reversed with the Bahamas ending up 4-0 after a 2-1 victory over Costa Rica.
In that match, Jamal Adderley was inadvertently moved into the singles spot, winning 6-4, 7-6 (5) over Maurizio Feoli, while Kevin Major lost 6-0, 6-4 to Pablo Nunez. However, the team of Adderley and Marvin Rolle remained undefeated in doubles, beating Feoli and Alan Reifer 7-5, 6-2.
After moving into the playoffs on Saturday, the Bahamas lost its crossover match 2-0 against Paraguay, who was the runner-up in pool A round robin. Bolivia, the winner of pool A, beat Costa Rico 2-0. Neither matches played their doubles as the victories were already decided with the singles.
As a result of their victories, Bolivia and Paraguay have been promoted to zone II for 2014, while the Bahamas and Costa Rica will remain in zone III with fifth place Honduras, sixth place Jamaica, seventh place Cuba and eighth place Panama.
"The team gave it 110 per cent and I know it's disappointing because we came that close to moving up," Farrington said. "We didn't come up with the goods. We didn't come up with the wins when we needed them. So I know it's disappointing for all of us.
"We're going to try again next year and with the calibre of young players that we have in the system, I feel we have a chance to win. So we're just going to keep pushing at it and hopefully we will get there. But we really should be playing in zone II and not in zone III."
Unlike when he was playing, Farrington said the Bahamas Lawn Tennis Association has quite a number of players that can fill the gap as players start to slowly move off the scene.
But he said it's only a matter of time before the Bahamas finally get its breakthrough.
From the start of the tournament, Farrington said he made a decision to play Major as the No.1 seeded player over Devin Mullings in an effort to give the Bahamas a better chance to win their matches. As it turned out, Mullings didn't lose a match and the doubles team of Adderley and Rolle were also perfect as they either helped the Bahamas take a 2-1 or 3-0 decision in the round robin.
"Playing on red clay and with none of the players having sufficient matches under their belts, I thought it would be best if we set up our players the way we did," Farrington said. "Everybody was in agreement with it and it worked right in our favour. All of the teams seemed to have the same strategy in mind.
"I spoke to Devin about it and he realised that it was a team effort and there's no 'I' in team. It's all about the team and we have to work what is best for the team. We came very close to moving up. We were very close. You're talking about a few points that would have made a difference in us moving up to zone II."
Despite falling short against Paraguay in their playoff match on Saturday, Farrington said he was pleased with the team effort.
"I'm proud of our players. They played extremely well. It was a great team effort and it was a great team effort and team spirit," he said. "I'm just fortunate to have the team that I had to work with. They supported each other. It was really a great team effort and I'm looking forward to working with them again in the future as we try to get back to zone II."
The Bahamas last played in zone II in 2009 when the team of Mullings, Neilly, Rolle and Bjorn Munroe, captained by Farrington, lost 3-2 to Guatemala in the relegation match at the National Tennis Center.
Farrington was captain of the same team that lost 4-1 to Paraguay in the first round in Lambare, Paraguay.