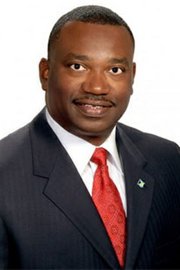 By RASHAD ROLLE
PHENTON Neymour, the former Minister of State for the Environment with responsibility for BEC, has slammed current BEC chairman Leslie Miller for his remarks during the recent budget debate.
In the House of Assembly, Mr Miller said Mr Neymour never met with members of BEC's executive board during his tenure as the minister responsible for BEC.
Yesterday, in a press statement, Mr Neymour said: "From the time I entered frontline politics, I expected that there would be... people who would try their best to soil my name.
"I took the position that irrespective of the missiles, headwind, crosswind and downdrafts, my objective is to do my best to help my country and my people."
However, Mr Neymour said, the words and actions of some members of the PLP government "never cease to amaze me".
He accused Mr Miller of using the protection of the House of Assembly to make unsubstantiated claims that the chairman knows have no basis fact.
The former Minister said: "One of my first activities as a Minister in the Ingraham Government was to meet with members of the Board of both BEC and the Water and Sewerage Corporation followed by executive managers.
"In fact, I met with members of the BEC board at their first board meeting, which was documented, and later took them on a tour of the Clifton Pier Power Station to advise them of some of the challenges at the power station and the necessary course of action."
During his contribution to the budget debate, Mr Miller also spoke about adjustments his team made to the salary of disconnectors in New Providence.
In response, Mr Neymour noted that according to the chairman, BEC now pays 25 people $12,000 a month.
"This means each disconnector is paid an average of $480 per month or approximately $110 per week. This salary implied by him is below minimum wage!" he said.
"Is BEC violating the law? Do you believe anyone at BEC will receive a salary below minimum wage and the union allow it?
"Note that Mr Miller constantly complains of the high salaries at BEC. He stated that BEC paid 25 disconnectors $283,412 from October 2012 to April 2013. This is over a seven month period.
"If one divides $283,412 by seven months, the monthly average would be $40,487 per month that BEC had paid since October 2012 and not $12,000 per month as he stated. He said BEC is saving $18,000 per month. By adding the $12,000 and the $18,000 it would mean that BEC was paying $30,000 per month previously under the FNM government. If BEC is now paying $40,487 per month, is this not more expensive?
"Currently the PLP-led BEC is admitting to paying $10, 487 more than the $30,000 per month that he said was being paid under the FNM.
"Based on Mr Miller's calculations the disconnectors were paid $30,000 per month under the FNM. He quoted that they were paid $740,595 over 12 months.
"If one were to pay $30,000 over 12 months that would total $360,000 over 12 month and not $740,595 as stated by Mr Miller."