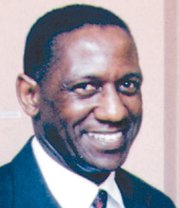 By NEIL HARTNELL
Tribune Business Editor
nhartnell@tribunemedia.net
A successful winding-up of Owen Bethel's Montaque Capital Partners is dependent on recovering $5.35 million owed by the insolvent Bahamian broker/dealer's clients and affiliates, plus the fate of $4.3 million being claimed by a Canadian provider.
Ed Rahming, the KRyS Global accountant and partner, in March 5 affidavit filed with the Supreme Court, disclosed that the largest source of potential recovery for Montaque Capital Partners' clients and creditors is the $4.3 million held by Canadian broker. Macquarie Private Wealth.
This sum, he alleged, represents 86 per cent of Montaque Capital Partners' Canada-based assets, and 57 per cent of the $7.568 million in total client assets, is being fought over by Macquarie.
And, laying out the 'worst case scenario' for Montaque Capital Partners' clients, Mr Rahming warned that if the Canadian broker's $3.5 million claim were to succeed, recovery might amount to just $300,000-$800,000.
Montaque Capital Partners is already massively insolvent, with its total assets covering just 43.4 per cent of the $17.4 million 'proof of debts' submitted by 43 clients. Losing to Macquarie would slash that projected recovery almost in half.
Mr Bethel declined to comment when contacted yesterday by Tribune Business, saying: "I'm not familiar with the extent of what the liquidators have done, so I'd prefer not to comment."
"Of the total customer assets identified in Canada, 86 per cent (approximately $4.3 million) is held at Macquarie Private Wealth," Mr Rahming alleged in his third affidavit to the Supreme Court.
"Macquarie Private Wealth is claiming approximately $3.5 million of these assets by virtue of guarantees given by [Montaque], and directors of the company personally, over the assets held in the company's accounts at Macquarie Private Wealth for the purpose of securing any debt arising in favour of Macquarie Private Wealth by a related company, Montaque Securities International."
Macquarie, he added, was holding $2.506 million in securities, and a $1.822 million in net cash balances, for Montaque Capital Partners and its clients.
Yet it was claiming that it was owed $3.461 million as a result of an overdrawn net cash balance by Montaque Securities International.
Mr Rahming alleged that upon their appointment, Macquarie said it was going to continue selling securities in Montaque Capital Partners' accounts "in the event [they] had insufficient cash to satisfy any margin requirements".
The liquidators' recognition in Canada by the Ontario Superior Court of Justice halted Macquarie's plans, but the Canadian broker/dealer is now challenging the stay order.
"Attempts to resolve the dispute with Macquarie, who do not accept that the recognition Order granted by the Ontario court applies to them and the assets under dispute, have proved fruitless," Mr Rahming warned.
He indicated the vulnerability of these assets had increased, as Montaque Capital Partners had no assets of its own to fund legal proceedings against Macquarie, while no clients with "assets at risk" had stepped forward to provide funding of their own.
"At this time, the assets at Macquarie in the approximate value of $4.3 million are not available to meet the costs incurred to date in connection with the liquidation, and we do not know how long the litigation will take to conclude nor its outcome," Mr Rahming alleged.
He added that it was possible "the entirety of the assets held at Macquarie are recouped, or simply that the balance of the assets after the settlement of the debt guaranteed by the assets is paid.
"In this latter event, and based on reported prices, transaction costs and other risks, the realisable value thereof may be in the region of $300,000 to $800,000."
Mr Rahming alleged that $2.388 million was owed to Montaque Capital Partners' by its brokerage clients, while another $2.963 million was owed from cash transactions.