By KHRISNA VIRGIL
Tribune Staff Reporter
kvirgil@tribunemedia.net
FRED Mitchell, Minister of Immigration, yesterday announced that officials plan to clamp down on the number of work permits issued annually.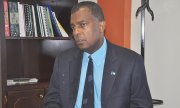 And within about a year, he said, the government will stop issuing work permits for maids, housekeepers and labourers.
Speaking to parliamentarians during continued discussions of the mid-year budget, the Minister said it is policy not to grant work permits where a Bahamian is well equipped to do the job. He said the government is considering the re-imposition of a maximum limit of three three-year work permits to applicants. 
This latest admission by the Christie administration is in line with the PLP's Charter for Governance where they not only promised to put Bahamians first, but to create 10,000 jobs during their 2012-2017 term in office.
"Bahamian business people," Mr Mitchell said, "come to the Department all the time and say that they are unable to find Bahamian labourers with the necessary work ethic at the price being offered for their labours.

"The Cabinet has asked that we work in conjunction with the Department of Labour and the National Training programme so that within a year we will be able to stop issuing work permits for maids, housekeepers and labourers.  I say this only as a warning shot about what is likely to come.

"Professional bodies are now consulted on whether or not the work permit should be granted.
"(There is) no limit on the number of times they can be granted and what happens is that over time, people build up residency and ties in the country and qualify then for permanent residence. There is some resistance at the policy level to this.
As it stands work permits granted for any period of time at various categories range from $1,000 for the ordinary worker to $12,500 for the top workers per annum.
Labourers, caregivers and live in maids are by far the most applied for category, Mr Mitchell said.
There are 343 new applications for those positions while 1,458 are currently seeking renewals.
The Department also has 449 new applications and 1891 quarries for renewals for gardeners, handy men and similar workers. 
Concerns have also been raised over the welfare of Bahamian workers in Grand Bahama. On the island, Mr Mitchell said the matter has become most vexing, but he intends to bring it under control.
He has met with some of Grand Bahama's major employers, including the Grand Bahama Shipyard and Quality Services. There are plans in motion to meet with BORCO, Club Fortuna and other businesses and businesspersons, Mr Mitchell said.
"If the complaints continue, we have made it clear to industry in Grand Bahama that we will begin to refuse all requests for work permits cold turkey, unless there is a clear understanding of the need for policies to hire and train Bahamians," Mr Mitchell said.