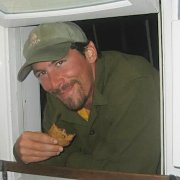 By SANCHESKA BROWN
Tribune Staff Reporter
sbrown@tribunemedia.net
OFFICER in Charge of the Central Detective Unit, Paul Rolle denied yesterday that police are rushing the investigation into the murder of the American tourist to calm international fears.
Supt Rolle said the police are treating the investigation into the death of Kyle Bruner with the same dignity and respect as any serious crime committed in the Bahamas.
"We aren't no play-play cartoon police force. We are professionals and we work very hard to solve these crimes. We are not rushing this case because of the nationality of the victim."
We are investigating it the same way we do with any other murder and anyone who says otherwise needs to stop talking fool. We have suspects in custody in a quick time with most of the murders and if they look and do their research they will see."
Supt Rolle was responding to rumours that the police force is rushing to find someone to blame the murder on because of international pressure.
He admitted however, that police have taken a special interest in the case because it does affect our number one industry.
"Tourism is our life blood," he said, "and whenever a visitor is murdered it takes on a different life, it is not that we treat them any differently, but the death is a concern nationally and internationally and we depend on the foreigners to come here for our survival. We need people to be sensible and understand that we all are doing all we can to investigate this murder and any other murder. But we need the Bahamian population to come forward and provide information to the police."
Police have confirmed that two men are in custody, however they are still looking for 18-year-old Leo Bethel. His last known address is Balls Alley.
Bruner, an American visitor was apparently trying to help a woman who was being mugged my two armed men early Sunday morning when he was shot in the neck.
Supt Rolle said Bruner, with two women and another man, left Hammerheads and were walking to Double D's for food when they were approached by two men.
A struggle followed between Bruner and one of the suspects, resulting in him being shot.
Bruner, a sailor, had been working as first mate on the Liberty Chipper sailboat that was passing through the Bahamas and was docked at Nassau at the time of the shooting.
According to international reports, Bruner will be cremated and his ashes will be scattered in the ocean.