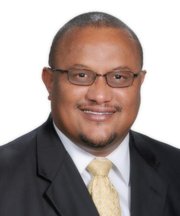 By NEIL HARTNELL
Tribune Business Editor
nhartnell@tribunemedia.net
The National Insurance Board's (NIB) former chairman "was emphatic" that no Cabinet ministers urged him to treat the $10 million investment offering by BAF Financial's parent "in a preferential way", an audit report has disclosed.
The Grant Thornton assessment of allegations made against Gregory Moss by suspended NIB director, Algernon Cargill, said the ex-chairman denied that he and fellow Board member, Patrick Davis, overturned management's recommendations and instead sought ministerial approval to take up 100 per cent of BAB Holdings' $10 million preference share issue.
The report, which was tabled in the House of Assembly yesterday, contained the transcript of an interview with Mr Moss in which he admitted to being contacted directly over the preference share issue by John Wilson, the McKinney, Bancroft & Hughes attorney and partner, who is one of BAB Holdings' principals.
And, during the February 7, 2013, interview at Grant Thornton's offices, Mr Moss recalled a dinner at Luciano's restaurant, during which Khaalis Rolle, minister of state for investments, referred to BAB Holdings' approach to NIB and described it as "a good company".
However, Mr Moss was then quick to deny that any pressure was placed upon him to give BAB Holdings' "preferential" treatment, adding that this was "impossible" under NIB's investment approval structure.
Asked directly by Grant Thornton whether he and Mr Davis sought to overturn management's recommendation not to invest in the $10 million preference share issue, Mr Moss "said that never happened and is impossible under the structure of NIB".
The interview transcript further recorded: "He [Mr Moss] said that NIB received a proposal from BAB Holdings to invest $10 million in preferred shares.
"He said that he received a call from a lawyer, John Wilson, asking NIB to place monies in BAB Holdings Ltd through a private placement of $10 million preferred shares.
"Regarding that call, GM [Gregory Moss] mentioned that John Wilson asked him whether he had received the proposal from BAB. He (GM) said he told Mr Wilson that the proposal was with NIB management for their recommendation in order for the Finance and Investment committee to review it. Once that was all done they would make whatever recommendation seemed appropriate to the Board."
Mr Wilson's partner in BAB Holdings, the parent of BAF Financial, is current Bahamas Chamber of Commerce and Employers Confederation (BCCEC) chairman, Chester Cooper.
Mr Cooper told Tribune Business last year that he was "not privy" to any of NIB's internal processes relating to his company's investment proposal.
"The only thing I can say is that whilst we did make a private placement offer of $10 million, and we did introduce the offer to NIB, we haven't been a part of any internal discussions at NIB, and we haven't got any feedback on it," he said at the time.
The Grant Thornton interview transcript also recorded Mr Moss saying he had no personal relationship with Mr Cooper, although he and Mr Wilson had once both been associate attorneys together at McKinney, Bancroft & Hughes.
And the interview further noted: "GM [Gregory Moss] also mentioned a dinner at Luciano's where he saw Ministers Ryan Pinder and Khaalis Rolle, who were there to celebrate Minister Pinder's birthday.
"During their brief talk, Mr Rolle mentioned that he understood that BAB has made an application to NIB for funding, and BAB seemed to be a good company.
"GM was emphatic that no one asked him to have BAB treated in any preferential way and that, in fact, it would not be possible to do so under NIB's investment structure."
And both ministers in question vehemently denied to Tribune Business last year that they had any involvement in deliberations over the BAB Holdings offer, one describing such suggestions as "a complete fabrication".
Mr Moss said NIB's investment structure involved five approval levels. The first was Phaedra Knowles-Mackey, NIB's vice-president of investments, who had "produced a paper on the investment and said some positive things about the company and the proposal, but ultimately did not recommend the investment".
It then went to the Finance and Investment Committee, which rejected the initial BAB Holdings proposal, but suggested it could be considered if the offer was made more attractive to NIB.
These recommendations, Mr Moss told Grant Thornton, went to the full NIB Board. The Board agreed to invest in the $10 million preference share issue "subject to the imposition of various other conditions (including a final condition, which was recommended by Algernon Cargill, that the interest rate be increased by 1 per cent)".
Those other conditions included obtaining approval from both the Minister of National Insurance and Minister of Finance. While the former gave his consent, the latter did not, and NIB ultimately never invested in the BAB Holdings issue.
"GM [Gregory Moss] said that there was nothing untoward about the process that was adopted by NIB," the Grant Thornton interview notes recorded.
"In fact, the process worked. The reality is that the BAB proposal was never accepted by the Board but a counterproposal was framed, which counterproposal was eventually disapproved by the Ministry of Finance and the matter ended there. He said that is how the system is supposed to work."
Mr Moss's account is backed, to some extent, by documents filed with a Supreme Court affidavit sworn by Mr Cargill in late 2012.
Mrs Mackey-Knowles's September 24, 2012, report to Mr Cargill described the BAB Holdings offer as carrying an interest coupon of 6.75 per cent (Bahamian PRIME plus 2 per cent), payable semi-annually.
The $10 million offer was designed "to strengthen the company's capital base; invest in the development of the company's products and offering; increase the company's infrastructure and reduce the debt related to the company's acquisition".
BAB Holdings, the report said, intended to use $3.75 million of the proceeds to pay down bank debt taken on when BAB Holdings' principals, Messrs Cooper and Wilson, acquired BAF Financial (then British American Insurance Company) via a management-led buyout in 2007.
Of the remainder, some $3 million would be used to "extinguish" more debt in the form of a "note payable", leaving $3.05 million in capital for expansion and $200,000 to cover offering costs.
BAB Holdings preference shares, Mrs Mackey-Knowles said, were perpetual in nature, although the company had the option to redeem them after five years.
Describing BAB Holdings and its primary asset, BAF Financial, as "relatively stable", she nevertheless wrote: "The offering of $10 million exceeds the company's net worth of $9.8 million and its total common shareholders equity of $2 million.
"The company does not trade on BISX, and falls outside the parameters of NIB's Investment Policies and Guidelines of investing in private placements and perpetual offerings."
As a result, she concluded that NIB management "is not recommending this investment".
In a September 28, 2012, letter to Elizabeth Keju, acting permanent secretary at the Ministry of Labour and National Insurance, Mr Cargill suggested that the 6.75 per cent interest coupon being offered by BAB Holdings "was too low, given the inherent risks".
Mr Cargill said that notwithstanding management's advice, NIB's Investments Committee had the previous day "sought to mitigate these risks by adding the following additional conditions prior to passing a resolution to approve the investment of 100 per cent of the $10 million offering".
The Investments Committee, in return for the $10 million investment, wanted NIB itself to have the option after five years to either redeem the BAB Holdings preference shares or convert them to an equity stake. Another condition was that NIB obtain a Board seat, and that the investment have ministerial approval.
"The Investment Committee also advised that in the event these conditions can be met, that NIB should participate in the full offering of $10 million, as it was considered that in the event the entire subscription was not completed, that the company's overall financial position would not be strengthened, and the best position was for NIB to participate at 100 per cent," Mr Cargill noted.
An NIB Board of Directors meeting, held on September 27, 2012, agreed to adopt the Investments Committee resolution with the added condition that BAB Holdings increase the interest coupon by one percentage point - taking it to 7.75 per cent, or Prime plus 3 per cent as opposed to 'plus 2 per cent'.
The Ministry of Finance, via acting financial secretary Ehurd Cunningham, replied on October 1, 2012, to say that the BAB Holdings issue should not be invested in.