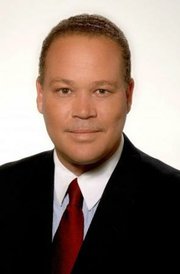 By SANCHESKA BROWN
Tribune Staff Reporter
sbrown@tribunemedia.net
THE FREE National Movement's newest senator, Carl Bethel, said yesterday that he will use his time in the Upper Chamber to ensure the PLP government keeps all the promises they made to the Bahamian people.
Shortly after receiving his instruments of appointment at Government House yesterday morning, Mr Bethel said there is still a lot of work to be done in this country and he, along with the other FNM Senators, will ensure the government works in the best interest of the people.
"At the end of the day there are a lot of problems this country faces. The government will have its way, the opposition will have its say and in the process of the opposition having its say there will be a constructive working dialogue that will improve whatever it is the government is seeking to implement throughout the next several years. That is the hope, because everybody doesn't have all the right answers but everybody can do it together, that is our hope. Of course we intend to vigorously do our very best to see if our government lives up to every one of its election promises and in the event that they fail to do so, we will be quick to point out where they have fallen down and what they can do to address the situation," he said.
"I think the Bahamian people would say they (the government) have not been very successful at this point, but we know that the country is set by forces beyond its control which would limit the ability of any government to deliver in election promises. That is why you should be careful what promises you make and not make wild promises when you are out there without regard for what the true situation is. Do not make wild promises because at the end of the day we all knew  in 2011 and 2012 exactly what the country was going through and these challenges have not changed. I don't think the government is doing as good of a job as we would have done."
As it relates to his future career in politics, Mr Bethel said he will run again in 2017 if "it is what the people want".
He said: "My whole adult life has been one of seeking to do the best that I can do to serve the Bahamian people. Really it depends on the will of the people, not my will. I will do whatever I can do in whatever capacity I am asked to render service to the Bahamian people and make the world a better place, 2017 is just around the corner so I think if I have health and strength and the people wish I would offer myself in whatever capacity they will have me."
Mr Bethel will be the Leader of Opposition Business in the Upper Chamber.