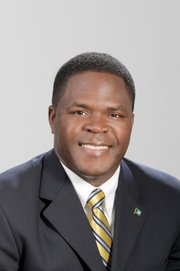 By KHRISNA VIRGIL
Tribune Staff Reporter
kvirgil@tribunemedia.net
A NEW drainage system at Pinewood Gardens to combat severe flooding in the area could cost the government up to $13 million, according to constituency MP Khaalis Rolle.
But given the country's current financial situation, Mr Rolle told The Tribune the government has to find the most cost-efficient solution to the problem.
He is expected to present several proposals to Cabinet when they meet today.
"We've gotten the proposal," Mr Rolle said, "and we have looked at a computer-generated model of the area, but based on how Pinewood is situated, which is in a
valley, there will be some implications which would affect other areas around Pinewood.
"But at this point we think that there is a tremendous opportunity to fix this issue and to create a township in the south.
"The first ball park estimate is around $10 million to $13 million and there have been a number of proposals submitted. A decision is dependent upon Cabinet's approval.
"Obviously there are budgetary constraints because this is something very, very expensive but we have made significant progress on this matter which is more progress than was previously made."
Back in July, Prime Minister Perry Christie announced that his administration was exploring options to improve the conditions at Pinewood Gardens.
At the time he said that consultants who analysed Pinewood were preparing to submit to the government a specific set of recommendations.
"We've had people look at it microscopically," Mr Christie said, "And in my discussions with them, we feel that we are onto something very real."
In May, officials at the Ministry of Works said that the entire drainage system would have to be done away with in order to alleviate the flooding.
Engineers explained that the drains did not function effectively in situations of heavy rainfall. In Pinewood there are more than 80 drainage wells with depths between 150 and 200 ft, however, the area's geographic characteristics made the wells inefficient.