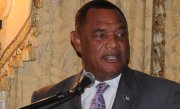 PRIME Minister Perry Christie yesterday announced the formation of a National Festival Commission, charged with the conceptualisation of the new "Carnival-style" festival.
Set to create widespread economic opportunities for the cultural industry, the body has around 18 months to organize the week-long event projected to rival world-renowned festivals such as Trinidad's Carnival, and Canada's Caribana.
The commission is chaired by Paul Major, with veteran educator and cultural enthusiast Arlene Nash Ferguson as Chief Administrator of the Festival Commission Secretariat.
Veteran Junkanooers Winston Cooper, Percy Francis, Arthur Gibson, Leslie Johnson, and Chris Justilien will provide technical resources, Mr Christie said.
Other members include:
• Calvin Balfour, Acting Permanent Secretary in the Ministry of Youth, Sports and Culture;
• Simon Wilson, Deputy Financial Secretary in the Ministry of Finance;
• Brandace Duncanson, Office of the Attorney General;
• Nicola Simmons and Reagan Collie, Ministry of Tourism;
• Robert Sands, Baha Mar vice-president;
• Ed Fields, Kerzner International vice-president;
• Anthony Ferguson, publisher;
• Chester Cooper;
• Felix Stubbs;
• Fred Munnings Jr;
• Dr Barry Russell;
• Max Gibson;
• Patricia Mortimer;
• Obie Pindling;
• Inga Bowleg;
• Muna Issa;
• Cameron Symonette;
• Jaime Dingman;
• Antonius Roberts, sculptor;
• and Shanae Strachan.