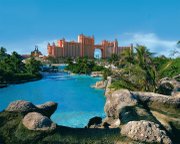 By KHRISNA VIRGIL
Tribune Staff Reporter
kvirgil@tribunemedia.net
SEVERAL hundred delegates from around the region will attend the International Monetary Fund's second annual high level Caribbean Economic Policy Forum at the Atlantis Resort next week.
The forum, which will bring together finance ministers and central bank governors from throughout the Caribbean region, will focus on pressing economic and financial challenges that confront various governments.
State Finance Minister Michael Halkitis yesterday said the government is privileged to host the discussions, and is looking forward to the benefits to be gained by the two day forum. It will be held from September 19 and 20.
"We benefit with the number of visitors that will come. So this is a part of an outreach to the smaller countries to make sure that issues to affect them are not lost on the agenda or drowned out by the bigger countries," Mr Halkitis said.
"This gives an opportunity to have a separate discussion and the outcome of this discussion can be put on the agenda for the annual meetings so its an opportunity for the voices of the small countries to be heard.
"The economic challenges facing the region are very very similar – slow growth, high levels of indebtedness because of the economies growing slowly and how to stimulate their economies, how to get the private sector more involved and how to make the fund and the bank and the other development agencies more sensitive to the needs of other countries."
An important theme of the New Providence conference is how to increase the growth and potential of economies in the region.
These include: how to stimulate and harness the private sector potential, how to reduce and mitigate against the region's vulnerability to natural disasters and international economics shocks, how to reduce high public sector indebtedness and how to enhance the stability of domestic financial sectors.
Prime Minister Perry Christie is expected to open the conference along with delegates from international financial institutions led by Min Zhu, IMF deputy managing director.
The forum, a follow-up to last year's conference in Trinidad and Tobago, will also draw officials from Antigua and Barbuda, Barbados, Belize, Dominica, the Eastern Caribbean Central Bank, Grenada, Guyana, Haiti, Jamaica, St Lucia, and Trinidad and Tobago.