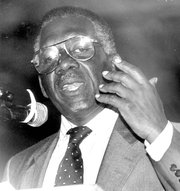 By RASHAD ROLLE
Tribune Staff Reporter
IN celebration of National Heroes Month in October, a committee will select 15 heroes from a list of 52 nominees to be recognised for their achievements and contributions over the years.
The aim is to encourage respect for the service these individuals have given to the country over the years, committee members Rev Canon Sebastian Campbell and Rev CB Moss said.
The Rev Campbell said: "In March 2007, the government of Perry Christie passed legislation making the second Monday in October National Heroes Day, authorising a local system of National Honours.
"However, what's most important is the entrenching of nationalism into the hearts of Bahamians."
Rev Moss, who represents the Bain and Grants Town Advancement Association, said: "Recognising that many of the heroes of the past were deeply connected to Bain Grants Town, the Bain Grants Town Advancement Association held a Thanksgiving service for the Heroes and Legends of Bain and Grants Town on October 28, 2012."
"This year, the prime minister has acceded to the request of the Bain Grants Town Advancement Association and proclaimed October 6-12 as Bain Grants Town Heroes week.
"We are convinced that this project is of vital importance to the development of the wider community as it will contribute to a greater sense of pride, dignity and commitment to continued development by our people.
"The Bahamian society is primarily an oral one, with very little recorded material available on the people and events of communities like Bain Grants Town. This project is designed to provide the impetus to research, authenticate and document the rich and extensive history of the people of this historic community. "
Next month, the National Heroes Committee and the Bain and Grants Town Advancement Association will visit schools and meet with government ministers to discuss national development.
They will also attend the opening of a library at Yoruba House on Augusta Street.
The events will culminate with an Awards Banquet on October 12.
The nominees from which 15 heroes will be selected include: Sir Lynden Pindling, Claudius Walker, Arlington Butler, Mable Walker, Bishop William Enease, Cleveland Eneas, Mary Ingraham, Dr Myles Munroe, Sir Milo Butler, Ellison Greenslade, Harcourt "Cordy" Carter, Judy Munroe, Sheila Culmer, Carleton Williams, Rev Dr P Hepburn, Basil Johnson, Althea Mortimer, Charles "Boozie" Rolle, Cynthia "Mother" Pratt, Dr George Sherman, Wellington Ferguson, John Sherman, Naomi Blatch, Charles Carter, Gerald Dean, J Henry Bostwick, Janet Bostwick, Charles Rhodriguez, Dame Doris Johnson, Sir Orville Turnquest, Fealy Demeritte, Dr Earle Francis, Percy "Vola" Francis, John Chipman, Arch Deacon William Thompson, Charles Major, Paul Meeres, Franklyn Wilson, Brent Cambridge, Charles Fisher Audley Kemp. Cannon Milton Cooper, Ulric Mortimer, Eliza Malcolm, WA Russell, Rathie Cartwright, Hubert Johnson, Bernard Nottage, Fr Marcian Peters, Ferly Palmer, Eddie Ford and John Ferguson.