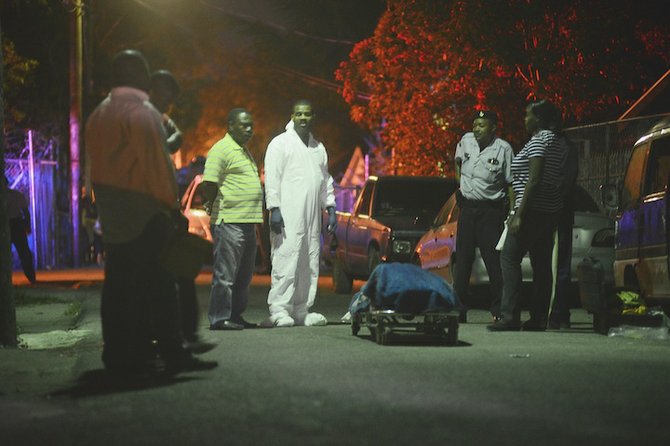 By KHRISNA VIRGIL
Tribune Staff Reporter
kvirgil@tribunemedia.net
TWO men were stabbed to death during the weekend in two separate incidents, one an act of retaliation and the other following an argument over a plate of food at a children's party.
At just four months into the new year, the deaths have pushed the country's murder count to 29, according to The Tribune's records.
Both homicides occurred on Saturday night. However, authorities do not believe that any of the matters are connected.
In the first incident, police said they received reports of gunfire at a government apartment complex, also known as the "Big Yard" on East Street just opposite Coconut Grove Avenue.
Police said they received calls of an incident at around 8:30pm.
Once they responded to the scene, Central Detective Unit Chief Paul Rolle said eyewitnesses revealed that several people had gathered at the complex when a gold coloured SUV entered the yard. At least one of the men got out of the vehicle and opened fire on a group of persons. As a result, one man was shot in his head.
While at the scene Mr Rolle said: "As the persons got back into the SUV and attempted to get away, heading south on East Street, they were pursued by a group of persons and the vehicle crashed into a pole, as you see behind me.
"At that point persons who were pursuing them produced weapons and discharged into the vehicle where both persons on the inside of the vehicle were shot."
A short time later, both wounded men got out of the vehicle and ran south as they were being chased. Their assailants then stabbed one of the men multiple times in his body. He was taken to the Princess Margaret Hospital where he died from his injuries.
While police did not officially release an identity, police sources said he is Rashad McIntosh, of Pinewood Gardens.
The other man, police believe, was taken to hospital by private vehicle. He and the other victim who was shot in his head are listed in critical condition in hospital. 
The second man to lose his life this weekend has been identified by police sources as 31-year-old Mario Coakley, of Farrington Road.
Authorities were at East Street, when they received reports of a stabbing incident at Eneas Street, off Meadow Street.
Investigators at the scene said that around 10pm a man went to a home where there was a barbecue and children's party underway. A second man, eyewitnesses said, went to the rear of the residence, collected a knife and approached Coakley.
An exchange of words then took place resulting in Coakley being stabbed multiple times in the chest and upper body. When Emergency Medical Services responded to the scene, his lifeless body was lying in the street. 
The assailant then fled the scene. As he ran, officers from the Enforcer Unit arrived and pursued the suspect who was  arrested.
Mr Rolle said he is a 27-year-old man of Yellow Elder Gardens and was in custody at CDU while police conducted their investigations at the scene.
Eyewitnesses said the stabbing occurred following an argument over a plate of food.
Police appealed to members of the public to come forward with any information they might have to assist investigators in both cases.