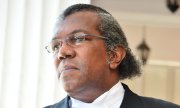 CONTEMPT proceedings against Geoffrey Farquharson are expected to reach a conclusion today when Justice Bernard Turner determines what action, if any, the court will take regarding the lawyer's conduct during the Marco Archer murder trial.
A ruling was scheduled to be handed down yesterday afternoon. However, notice had been sent ahead by the court that the matter would be heard this afternoon.
The proceedings have dragged on since October 2013 when the judge, following the sentencing of Kofhe Goodman to death, told the lawyer that he was to appear before him in November to explain his conduct.
There were a number of delays between then and Farquharson's defence last month where he argued that there was no basis for him to be before the court on contempt.