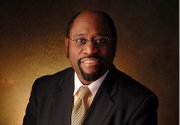 By NICO SCAVELLA
BAHAMAS Faith Ministries President Dr Myles Munroe said he is still undecided whether he will support the government's proposed constitutional referendum.
Standing outside of the House of Assembly after a heated debate on four constitutional amendment bills, Mr Munroe told The Tribune that he was still "trying to figure it out" when questioned about his personal position on the referendum.
"Currently I am not in support of it, neither am I against it, because I am still trying to understand it," he said on Wednesday.
To date there has been much public discourse surrounding the particulars of the amendments, which were debated for the second consecutive week in the House of Assembly on Wednesday.

Bills 1-4, which were tabled in the House last month, would allow a child born outside the Bahamas to a Bahamian mother and non-Bahamian father to have Bahamian citizenship. It would also allow a foreign man married to a Bahamian woman to seek Bahamian citizenship. It allows an unmarried Bahamian father to pass his citizenship to a child born to a foreign mother, and the fourth bill seeks to end discrimination based on sex.
The fourth bill has stirred the most controversy, however. That amendment would insert the word "sex" in Article 26 of the Constitution to make it unconstitutional to discriminate based on someone's gender.
Many believe that this amendment would eventually pave the way to gay marriage in the Bahamas because of the wording involved.
Many people, including Bahamas Christian Council President Rev Ranford Patterson and Democratic National Alliance Leader Branville McCartney, have said that the fourth bill needs to be clarified to clear up confusion.
In spite of the numerous criticisms of bill four, however, Prime Minister Perry Christie has adamantly insisted that it would not lead to or legalise same sex marriages in the Bahamas. He also said that the government would not change the wording of the amendment.
Many PLP Parliamentarians have also expressed concerns about the bills, including Fort Charlotte MP Dr Andre Rollins, Tall Pines MP Leslie Miller, Marco City MP Greg Moss and Bamboo Town MP Renward Wells.
Free National Movement Leader Dr Hubert Minnis had initially pledged his party's full support of the bills and the referendum, but on Wednesday pulled back from that promise. He said he had concerns that the first bill would not be retroactive, that the issues in bills two and three did not need to be put to a referendum to be changed and said bill four needs to be thoroughly discussed.
The referendum is expected to held on November 6, however in view of the strong opposition against the bills, it is unclear if the government will proceed with the vote.