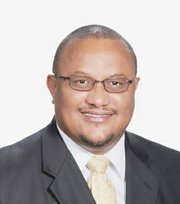 By KHRISNA VIRGIL
Tribune Staff Reporter
kvirgil@tribunemedia.net
MARCO City MP Greg Moss again blasted the Christie administration for its decision to impose value added tax (VAT) on January 1, 2015 saying the revenue generation system is "wrong" and would "savage" Bahamians.
It was one of a litany of critiques Mr Moss had for members of his own party yesterday as he contributed to the VAT legislation debate.
During a 30-minute critical address in the House of Assembly, Mr Moss reiterated that he would never support VAT as he viewed it as a betrayal of the PLP's philosophy because it would burden the poor while giving the rich tax breaks.
Mr Moss also raked the government over the coals for its failure to bring
"compassionate" pieces of legislation to Parliament. Mr Moss said he was waiting for the Christie administration to table in the House bills for the protection of homeowners facing foreclosure; to increase minimum wage, and for the rehabilitation of offenders, among others.
"Bring some compassionate legislation to this House," Mr Moss said. "As for this piece of legislation (the VAT Bill) you could doctor this and pretty it up and put lipstick on it however you want. But this is wrong. This is a betrayal of the philosophy of the PLP to enact this bill while the rich people out there are still not paying a dime. So I will not support this."
He also lashed out at the Christie administration and said since taking office in May 2012, there was a lack of passion from the government to operate in a manner that matters most to suffering Bahamians. He suggested that the government was not serious about being effective.
"Where is the desire and the passion in this House to have a Centralised Procurement Agency in this government so not everyone is all over the place spending money and doing all kinds of deals? I am not talking about the PLP government, I am talking about Bahamian governments.
"Where is the passion in this House to put in place, if we are serious about deepening our democracy, a procurement oversight committee in this House with a majority on it from the Opposition, so the government can decide what to spend but the Opposition has a right to look at it. That is the most effective way of making sure that whomever is the government that they are always kept accountable because the Opposition always looking at it. Where is our sense of passion for our democracy rather than these political games we play?
"We can bring bills before this House and pass them in days and weeks when we are ready as we have just seen with the referendum exercise. Where is the bill to stop foreclosures on mortgage homes in this country? It is a simple bill.
"Where is the bill to reduce the prime rate in this county? Where is the bill to increase the minimum wage in this country? Our people are suffering. This is not a political statement. We come in this House and pass all kind of bills, where is the Rehabilitation of Offenders Bill? A real one. The Constitutional Bill was on the agenda and we are almost finished with it. These things are urgent tools that we need."
Mr Moss also suggested that the government was afraid to implement income tax as an alternative form of revenue because it would force politicians and other prominent members of society to document their earnings.
The government plans to implement VAT at a rate of 7.5 per cent on January 1.
Mr Moss has been critical of his party in the past and in June, voiced his earlier concerns about VAT during a sitting of the House of Assembly. Afterwards, PLP Chairman Bradley Roberts criticised Mr Moss for speaking "out of turn" when he said implementing value added tax "goes against the principles of the party".
Mr Moss was also embroiled in controversy during his tenure as chairman of the National Insurance Board (NIB).
Ultimately, Prime Minister Perry Christie terminated Mr Moss as NIB chairman after he refused to resign in January 2013.
Mr Moss has said he felt that the government did not fully defend his character against allegations made about his conduct while chairman of NIB.