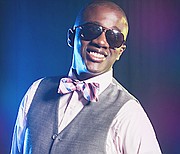 By ALESHA CADET
Tribune Features Reporter
acadet@tribunemedia.net
IT IS a feeling of pure bliss for singer Cambrell Poitier to have been selected as one of the semi finalists for the 2015 Bahamas Junkanoo Carnival CD Compilation.
Cambrell's entry song, entitled "Bahamas Come Together", was inspired by a vision of a completely united Bahamas, he told In Ya Ear.
"I envisage the entire country being united and connected in festive celebration during the Junkanoo Carnival. Although I was not alive during the first independence celebration in 1973, I can only imagine what the celebration was like, and I want to see my people as a country get back to that place of unity in celebration through music," said Cambrell.
Cambrell said he grew up in the church playing musical instruments and singing in the choir. His love for music was developed and nurtured in church as well as in school.
Upon graduating from high school, he started his career as a full-time music director and minister, which lasted for eight years and resulted in him serving in some of the larger churches in the country. He then began to write and produce music and started his own production company, FAVA Records, in 2007. Since then, Cambrell has had an award-winning and fulfilling career, writing and producing music.
In addition to "Bahamas Come Together", Cambrell is currently working on an EP entitled "I Have the Victory".
The record is scheduled to drop in January and Cambrell promises it will ground-breaking, so he is encouraging all of his fans to stay tuned. Cambrell has also been busy writing and producing for other artists.
"I stay involved in my music as much as I can. Music is a lifetime pursuit for me; it never ends. I think that Bahamian music and Bahamian musicians are on par with any other music and musicians in the world. I only wish the economics of the local music industry were stronger so that they could support more local artists and musicians on a full-time basis," he said.
Cambrell said the most influential music-related persons in his life were his high school music teachers, Mrs Knowles, who is now retired from the C R Walker Senior High School, and Mrs Armbrister from the A F Adderley Junior High. "They saw potential in me and helped to mould it and bring it out," he said.
For more information on Cambrell's music, check out his label's Facebook page, "Fava Records".