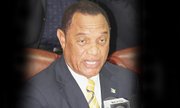 By SANCHESKA BROWN
Tribune Staff Reporter
sbrown@tribunemedia.net
THE re-establishment of full diplomatic relations between Cuba and the United States can have a "massive economic impact" on The Bahamas, according to Prime Minister Perry Christie.
Addressing parliamentarians in the House of Assembly yesterday, Mr Christie said The Bahamas must position itself, sooner rather than later, to be a fierce "competitor" with Cuba.
His comments came hours after US President Barack Obama announced sweeping changes to US policy with Cuba, moving to normalise relations with the island nation and "tear down the last remaining pillar of the Cold War".
Under the new measures, the US plans to reopen its embassy in Havana and significantly ease restrictions on travel and commerce within the next several weeks and months. The New York Times reported that while the embargo against Cuba remains in place, President Obama has called for "serious debate about lifting it."
Mr Christie said he spoke to Cuban President Raul Castro last week, who indicated that it would "not be long" before the embargo is lifted. He said he has already begun discussions on multi-destination tourism, that will benefit both countries.
"I then indicated to him that I knew because BBC was already talking about President Obama giving consideration to the idea and using his executive powers to do so. We have all known, seen and heard what has happened in the last few hours," Mr Christie said.
"That has enormous implications for our country, because you only have to look at the history of our economy to see what happened and how it happens to know that Cuba would have a massive economic presence in this region. The president himself told me 'I know that it will be great for my country because people will come looking for forbidden fruit and to get a taste of it'. But I just want you to know that I discussed intensively, multi-destination tourism.
"That is where a country like the Bahamas (will be) attached on a sister country like Cuba and Cuba will have visitation to the Bahamas as well because we have a very viable and everyday kind of connection going on. It is something we can look forward to.
"But for the economy of the Bahamas and for those who have responsibility to govern we must not waste any time. Whatever we can do to advance our commonwealth this is the time to do it. This is the time to ready ourselves (for) increasing competition."
According to international press, yesterday's announcement followed more than a year of secret talks between the US and Cuba, including clandestine meetings in Canada and at the Vatican and personal involvement from Pope Francis.
The re-establishment of diplomatic ties was accompanied by Cuba's release of American Alan Gross, who had been imprisoned for five years, and the release of a US intelligence agent who had been jailed in Cuba for more than 20 years. In a spy swap for their agent the US released three Cuban intelligence agents convicted of espionage in 2001 and jailed in Florida. The identity of the US agent was not revealed for security reasons.