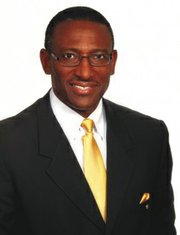 By KHRISNA VIRGIL
Tribune Staff Reporter
kvirgil@tribunemedia.net
WITH the capture of another group of Dominican poachers, Marine Resources Minister V Alfred Gray said he is pushing for harsher penalties to be written into the Fisheries Act on amendment.
While the changes are to be tabled in Parliament before the end of the budget year, Mr Gray said he hopes the Christie Cabinet will approve fines up to $250,000 for the captain, $50,000 for each crew member, and that the vessel will be confiscated.
As it stands, the fine for each poacher does not exceed $5,000.
The long-standing challenges with poachers robbing the Bahamas' waters of hundreds of thousands of pounds in seafood last year led the government to engage the Dominican government in talks. However, with the continued violation of Fisheries Laws, Mr Gray said he was not sure whether officials in the Dominican Republic took seriously the government's warnings.
"We met with the president of the Dominican Republic and he assured us that we had their full support," said Mr Gray.
"A memorandum of understanding was prepared and is with them now with terms and conditions to be finalised. They are supposed to be vetting them.
"In part and parcel, one of the conditions was that Dominican vessels are to be outfitted with GPS systems to ensure that the fishermen do not venture out of their own borders."
On Saturday, Defence Force officers arrested 40 Dominicans, who are suspected of poaching off the coast of Andros.
The Dominicans and their vessel, reports said, were apprehended by Her Majesty's Bahamian Ship for illegally fishing in Bahamian waters.
In a press statement, RBDF officials said during a routine patrol, HMBS Nassau got information about Dominican fishing vessels on the Great Bahama Bank and was directed to proceed to the area.
Later that day while in the area Guinchos Cays, HMBS Nassau arrested a 70 ft Dominican fishing vessel with about 40 persons on board.
The Dominican vessel was intercepted approximately 75 nautical miles south of Andros with an undetermined amount of fish on board.
The vessel and occupants were detained by Defence Force marines and will be brought to New Providence where they will be handed over to the appropriate authorities for further processing.
In January, nearly $100,000 in fines were collected from the captain and crew of a Dominican vessel that was arrested for illegally fishing in Bahamian waters in December.
With that arrest, 17 Dominicans were caught, but 33 others evaded capture after the group of 50 were spotted poaching near Cay Lobos, just off the Great Bahama Bank.