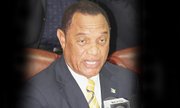 By KHRISNA VIRGIL
Tribune Staff Reporter
kvirgil@tribunemedia.net
THE Christie administration and developers of Albany last night signed and sealed an amended Heads of Agreement which will allow for a $140m expansion of the western New Providence project.
Bringing remarks,  Prime Minister Perry Christie said he was not only pleased the expansion would directly effect unemployment, but that there was a major community overhaul expected for the neighbouring Adelaide constituency.
He spoke at the Cabinet office where Ministers and Albany executives gathered to witness the "historic" agreement become official.
"I am particularly pleased," Mr Christie said, "with the continuous progress which has been made by this signature development even throughout the protracted recession, and its significant impact in the Bahamian economy.
"It was my government that had the vision and fortitude to enter into the first Heads of Agreement with Park Ridge Securities  in 2006. That vision has been most successfully realised because the vision keeps getting better and bigger.
"We are here today to seal an expanded and restated Head of Agreement for this stellar expanded project, which heralds the finest expansion of our tourism product, financial and medical services and reasserts the Bahamas as one of the most attractive places under the son in which to live and do business."
Developers of Albany plan to add a hospital and heli-pad, along with a health and wellness centre.
A financial arena, sports academy with boarding accommodations and an expansion of Albany's marina and residences to include 50 additional marina and condominium units is also expected. During the construction phase, 1,000 people will be employed with 300 permanent jobs to follow upon completion. Work will begin as early as the second half of this year and continue to 2023.
Christopher Anand, Albany's managing partner, explained that although the creation of the project came when economic times were challenging, he was proud of its overall progression.
Mr Anand said: "It's been quite a journey over the last several years. The financial crisis made doing anything difficult and anyone who was doing business during this time would be a liar if they said they had a fun time.
"Everybody said we would fail and they said there was no way to build something like Albany in a financial crisis.
"I like to think the Bahamas has become my home and I sit here and I think about the last nine years that I have been here, I think of the things that have happened here, a new airport, new roads, a new hotel, a new port and what we have done in our own way at Albany, it is pretty impressive."