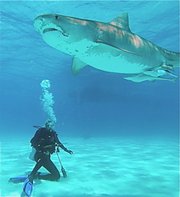 By DENISE MAYCOCK
Tribune Freeport Reporter
dmaycock@tribunemedia.net
EXPERT Bahamian diver and spear-fisherman David Rose says shark diving and feeding is an "unsafe" practice and should be banned in the Bahamas.
He was speaking following the death of an American, reportedly the victim of a shark attack, who disappeared off Grand Bahama on a shark-diving trip on Sunday.
"It is not a safe practice ... but the tourism lobby is so powerful in this country they do not want to scare people off because they make good money doing this," said Mr Rose, a professional commercial diver and spear-fisherman of some 40 years.


Shark dive tourism is a multi-million-dollar industry and the Bahamas is probably considered the shark dive capital of the world. DiveTalking online reports that the country earns about $80 million a year and has banned shark fishing in its waters in a move to secure this "tourism goldmine."
US commercial dive operators bring groups on shark diving and feeding expeditions to the Bahamas and divers have been fatally attacked in the past. On Sunday, the Florida-based Jim Abernethy Scuba Adventures (JASA) lost a diver off West End during a shark diving expedition.
Dr John Petty, a 63-year-old chiropractor from Longview, Texas, disappeared while diving with eight others from the Shear Water. His camera and shredded dive gear were recovered from the water and the search for him by US Coast Guard and Bahamian authorities was called off on Wednesday.
In a statement a Petty family spokesman said: "After the Bahamian government studied the items recovered in numerous searches, it has been determined that a shark attack was the cause."
The diving expedition on Sunday was to Tiger Beach, a renowned location 20 miles north west of West End, Grand Bahama. The divers routinely – during daylight hours – dive among tiger sharks lured with bait.
Michael Stroschim, manager of JASA, said he believed that Dr Petty was the victim of a drowning and not a shark attack, even though the dive gear recovered was shredded. He told The Tribune yesterday that the buckles on Dr Petty's dive gear were undone when it was found.
"The evidence does not point to a shark attack in this case," he said. "The diver most likely was separated underwater in a current, and we believe he probably ran out of air because of the way the gear was found, and then was disoriented and unable to get back to the boat – and most likely it is a drowning incident."
"The most important thing with the dive gear is that the buckles were unbuckled – a shark can't do that. We believe that, of course, it was not a shark attack as there are many factors pointing it was not."
JASA conducts three to four dive expeditions a month in the Bahamas and has been in the business for over two decades. However, it is not the first time that the company has had a fatal incident.
In 2008 it lost a client, Austrian lawyer Markus Groh, to a fatal shark attack and three years later Mr Abernethy - a well known and controversial figure in diving - was bitten on the arm by what was believed to be a lemon shark while diving in the Bahamas. He was airlifted to a Florida hospital for treatment.
Though thousands of tourists dive with sharks at Tiger Beach without incident each year, the location has been the site of several close calls and tense moments. The cageless shark-diving there remains a major draw for those wanting to hand-feed the larger sharks. Mr Rose, of Grand Bahama, believes that shark feeding by human hands is dangerous and should be prohibited as in the US. "Any animals in the wild are programmable and once you teach them something they don't forget it and in any State park in the US they tell you do not feed the animals," he said.
"Scuba diving, shark feeding and shark diving is outlawed in all state and federal waters in the US."
Mr Rose recalled a past fatal incident three or four years ago by the commercial dive company in the Great Isaacs near Bimini. He said other popular shark dive sites are Shark Junction, on the south side of Grand Bahama, and Memory Rock.
"Sharks have always been a challenge, but they can become more of a challenge when they gather in large groups where they are getting free food. As a spear fisherman it poses a significant challenge if I encounter a shark that has been already taught it can get food from a diver," Mr Rose said.
Mr Rose said if shark feeding was not dangerous, divers would not need to wear a suit of armour when feeding them. There are a lot of big sharks in the area of Memory Rock and that tiger sharks could grow to be 18 to 20 feet.
The commercial diver said a number of things could have happened when Dr Petty went missing. "Gear can malfunction, etc. But there are tiger sharks that have tried to bite photographers' camera underwater which was recently broadcast on ABC news."
In February 2012, a similar incident occurred in waters off Cat Island when conservationist Russell Easton was photographing a 12ft tiger shark. It was reported that sharks were attracted to cameras and bit that instead, allowing Mr Russell to escape without injury.
"I think shark feeding and diving is just as dangerous as feeding bears in Yellow Stone National Park, and eventually you are going to run into a shark," Mr Rose said. "You are talking about a big shark that can eat a man whole. They are turtle hunters and are known to be able to gobble a turtle, even a loggerhead turtle – they can crush up the shell and eat it."
Mr Stroschim stated that sharks do not attack human beings. "Sharks investigate humans, and in this case (with Dr Petty) what we believe is that the individual had a drowning incident which is not uncommon in scuba diving."
"There was information that there were marks on the gear found that might indicate that the diver was attacked by a shark. But what we know is that anything lying on the bottom of the ocean, the sharks investigate it to see if it is a food source, but they don't approach living people, which is why there are so many shark expeditions that go on." In Longview, Dr Petty was remembered as a man with an "adventurous spirit." A memorial service is expected to be held tomorrow at the town's First Baptist Church. A reception will follow at Longview Museum of Fine Arts, where some of Dr Petty's underwater photography will be on display.