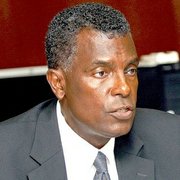 By AVA TURNQUEST
Tribune Staff Reporter
aturnquest@tribunemedia.net
FOREIGN Affairs Minister Fred Mitchell yesterday expressed confidence in the timely resolution of stalled hearings into allegations of abuse of Cuban detainees.
However, the decision on whether witnesses will be allowed to come to The Bahamas remains in the hands of the Cuban government.
Mr Mitchell said his ministry has completed all the necessary paperwork required to allow the repatriated victims back into the country to give evidence at the trial, adding that he expected compliance from the Cuban government.
At a press conference, he said: "The letters have been delivered to the Cuban government, we think it's a short time before it's resolved. We expect the witnesses to come to the Bahamas.
"I believe that the Cuban government has indicated that they are in a position to comply and so we expect it to be resolved. I don't want to speculate, but I would expect within a short time."
However, Mr Mitchell later clarified his statement, saying that while letters of request have been sent to Cuba, no decision has been made as to how the Cuban government would respond.
The letters with regard to the witnesses "sought their production by video evidence or by Bahamian officals visiting Cuba and questioning them in person there".
The trial to determine if Defence Force marines abused Cuban detainees at the Carmichael Road Detention Centre has been postponed since early December to give officials a chance to cross-examine Yordan Cantero and Alexander Vazcuez, two of three Cuban who claimed to have been beaten at the facility.
The men were repatriated to Cuba last year while the other Cuban, Carlos Pupo, gave testimony in the trial.
Lawyer Wayne Munroe, who is representing the Defence Force marines accused of abusing the Cuban detainees, previously said he does not believe the Cuban government will grant the remaining witnesses permission to travel to The Bahamas for the hearings.
Mr Munroe added that, if needed, a Bahamian delegation will go to Cuba to secure testimonies of the Cubans.
Immigration officers, Defence Force marines and medical personnel are among the 23 witnesses who have testified so far in the trial.
In September, National Security Minister Dr Bernard Nottage appointed retired Justice Cheryl Albury, Bahamas Christian Council President Rev Dr Ranford Patterson and former RBDF Commander Leon Smith to observe the hearing.
The trial began in November. In announcing the appointment of the observers Dr Nottage said the hearings would be held in camera. "A full report of the proceedings will be issued at their conclusion," he said, explaining that this was "to avoid publication of matters which may compromise national security".