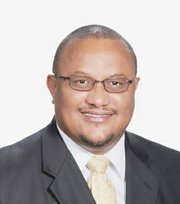 By KHRISNA VIRGIL
Tribune Staff Reporter
kvirgil@tribunemedia.net
MARCO City MP Greg Moss remains confident of a 2017 PLP general election nomination and is "unmoved" by criticisms he has received from colleagues over critical statements he has made about the government.
In fact, Mr Moss said his support in Marco City has grown because of his criticisms on government policies. He insisted he will contest the next general election and win in Marco City "regardless of what happens" with his future in the PLP.
PLP Chairman Bradley Roberts and Education Minister Jerome Fitzgerald have both criticised Mr Moss for saying that VAT implementation will violate the PLP's founding principle of protecting the poor.
Mr Roberts said Mr Moss spoke "out of turn" while Mr Fitzgerald said the Marco City MP is "misguided" in his views over VAT.
However, the backlash has not affected Mr Moss' views about communicating the sentiments of residents of the Marco City constituency whom he said simply cannot afford additional taxes, Mr Moss told The Tribune yesterday.
"Some of my colleagues might disagree," Mr Moss said. "Where my colleagues differ I respect them, but my conviction remains that to further tax the poor and middle class while giving tax breaks to (the) rich, corporations and professional class is wrong. Their views have not affected my views. I am really unmoved.
"I have every expectation that I will be offered a nomination. I will run in Marco City regardless of what happens and I will win Marco City. I have overwhelming support there and I plan to run again in 2017. My support has not suffered, but rather has grown from constituents who say they support my views. I have held a town meeting on the VAT issue and they support the concerns and they remain supportive.
"My political philosophy is to do as much as you can to stabilise the country and then when that job is done leave the scene. I intend to stay until my job is complete." 
Mr Moss said he was disappointed that many of his colleagues expressed views that were "safe" regarding taxation as opposed to showing objectivity during the 2014/2015 budget debate.
The government plans to implement VAT at a rate of 7.5 per cent on January 1.
"The question is not whether we should increase taxes, both administrations for the last four decades spent irresponsibly and yes the FNM did accelerate the deficit, but all of us contributed to that.
"The real question is whom do we raise the money from? Those who have criticised I have not heard any of them address that question. How do you justify that, imposing taxes on the poor and middle class?"
Recently other PLP MPs have made critical statements of the government, including Deputy House Speaker Dion Smith, Nassau Village MP, and Gaming Board Chairman and Fort Charlotte MP Andre Rollins.
Mr Smith said last week that residents in the Nassau Village constituency are poor and complain of not being able to "feel" the government. Dr Rollins defended Mr Moss' criticism about VAT and also questioned if the government will be able to bring in the amount of revenue from web shops that it has projected.
When asked for comment, FNM Chairman Darron Cash said the criticism is proof that there is a belief within the PLP that the Christie administration has failed.
"The rest of the MPs sit in Cabinet," he said, "and are beholden to the good stuff from the gravy train to say anything contrary. These are the same self-righteous parliamentarians who were arguing that Ingraham Cabinet ministers should have been resigning in droves. Despite all their pre-election hard mouth now cat has got all their tongues and only the courageous back-benchers will now take principled positions.
"The three men in question have spoken up on positions of principle and on behalf of their constituents. I applaud them for that. However, I expect that the party will have bigger issues to deal with once the internal warfare to replace the sleepwalking Perry Christie gets under way."
During his two year run in politics, Mr Moss was also embroiled in controversy during his tenure as chairman of the National Insurance Board (NIB).
Ultimately, Prime Minister Perry Christie terminated Mr Moss as NIB chairman after he refused to resign.
Mr Moss has said he felt that the government did not fully defend his character against allegations made about his conduct while chairman of NIB.