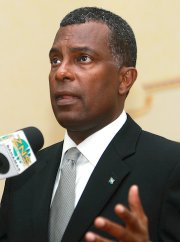 By SANCHESKA BROWN
Tribune Staff Reporter
sbrown@tribunemedia.net
FOREIGN Affairs Minister Fred Mitchell warned Dr Myles Munroe yesterday "not to mess" with him, charging that "just because someone sits on a pulpit and hides behind theology does not give them the right to make vile, slanderous statements".
Speaking with the press, Mr Mitchell said it is Dr Munroe's right to disagree with anything he says, but to attack him and impugn his character is not only wrong, but goes against the principles of Christianity.
"Someone of that standing should be careful how they express themselves in public. First to mis-characterize what was said to the extent that it looked as if they didn't read what was said and certainly did not understand what was said and then more specifically to make these ad hominem vile, disgusting, almost obscene comments about me personally. I take violent objection," Mr Mitchell said.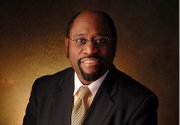 "That is my only issue. I spoke to Bishop Simeon Hall this morning and I said to him that it doesn't matter to me who you are or where you say it, you do not have the right to make these kind of vile innuendos, slanderous statements and then hide behind theology and say that gives you the right to do so. If you are going to have civil discourse, then let's have a civil discourse and say 'I disagree with that, I don't stand for that, that is against my moral beliefs'...you can say whatever you want just keep all this personal violence out. That's it, but when you do that you can expect that I am going to respond in kind, I do not care who you are, where you stand, I am going to respond to it.
"I want people to look at me. I am not blinking on this at all. It don't matter to me whether you agree or disagree with what I say, that is your right, this is a free society, just don't impugn in a personal way. If you do that then I only have one response and that is to answer in kind," he added.
Mr Mitchell said he believes Dr Munroe's comments were a personal attack on him because when former Prime Minister Hubert Ingraham made similar statements, Dr Munroe was "silent as a lamb."
He said: "Here you have a man going on the pulpit and saying this man is disqualified for the job he now has because of his views, not because of the content of his character, not because he is disqualified from office. You know he goes through the great extent to say, 'I respect him and this and that and all the rest of it, but his views disqualify him from going further' and that's fine too, that's honest commentary. Just don't go beyond that and start impugning me personally.
"That is where you cross the line and I said that to his friends, all of them who called me up, I said you tell him for me, that that is my position on this matter, do not cross the line and become personal. 
"Why you pick me to attack, when Ingraham spoke, you were silent like a lamb. It was made personal when he called my name. I have some evidence and I have seen some other things and I don't want to take it from where it is, my view is equal and opposite. If it goes further I know what to do to defend myself. It is not about his views, the point is do not make it personal.... I took Christ as my personal Saviour when I was nine years old, but if the preachers don't know Christ I can show them where Christ is and I can show them the path to Christ. Christ taught tolerance, you must take care of the poor, you must not judge other people, you must do unto others as you would have them do unto you; all of these values.
"Now if they are lost and don't know their way, I can show them the way and that is my views on this, just don't mess with me. Do not mess with me."
Mr Mitchell said he is not sure where the conversation on Lesbian, Gay, Bi-sexual and Transgender (LGBT) rights will go in this country but where it does "will be for civic activists to decide".
His comments came after Dr Munroe said in other media reports that Mr Mitchell should keep his LGBT comments to himself because they do not "represent the majority of the convictions of the Bahamian people".