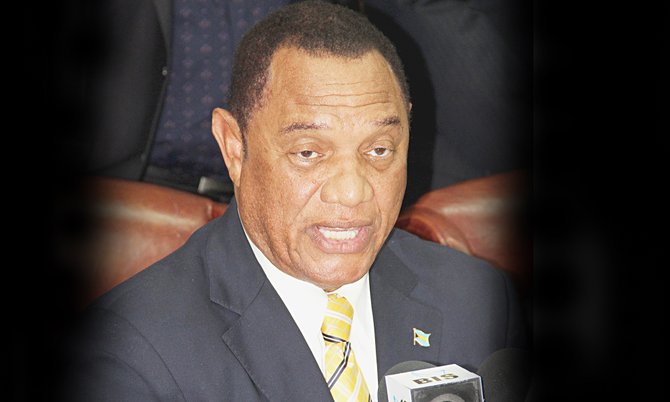 By AVA TURNQUEST
Tribune Staff Reporter
aturnquest@tribunemedia.net
THE $1 million donation by Albany developers to the Urban Renewal Foundation had no impact on their joint venture bid to acquire South Ocean resort, according to Prime Minister Perry Christie.
The decision over who would be selected as the preferred bidder to acquire the neighbouring property was expected to be made yesterday, Mr Christie told attendants at the Albany cheque presentation on Monday.
News of the donation sparked concern over conflict of interest by several persons in the business community yesterday; however, in his remarks on Monday Mr Christie maintained that the donation would have had no bearing on the outcome of deliberations.
Speaking on Monday, he added: "Regardless to the outcome of that (South Ocean), who wins that process, we know that whatever happens out here will have to necessarily be consistent with ensuring it does not devalue this development (Albany).
"But the point is that it is about to happen right around the corner as well. A new development that will take place creating more employment, and creating a greater kind of mix for the people of the Commonwealth of the Bahamas."
Tribune Business revealed last month that Albany developers had partnered in a joint venture bid to acquire the South Ocean resort property.
At that time, Southern Cross Developments, which is managing the bid process for the resort's owners, the Canadian Commercial Workers Industry Pension Plan (CCWIPP), confirmed that the South Ocean race had been narrowed down "to a select handful of credible groups".
The Albany donation will go to fund several UR projects, including the Urban Renewal Band, Urban Sporting League, and The Girls and Boys Club of The Bahamas.
On Monday, co-chair of The Urban Renewal Commission, Algernon Allen, said the donation was both symbolic and substantial.
"It recognises," he said, "the symbiotic relationship which is a new reality of our country, mainly that it is necessary, for any substantial investment in The Bahamas to have an investor and the country embrace each other.
"It also is exceptional in that it is the largest single donation made to the immediate social good of our country and, of course, it is very generous. It is symbolic of a new norm that must necessarily mandate that we develop a more socially sensitive society.
"We cannot avoid it, because if we avoid it, it will gobble us up."
Albany developers have also agreed to transfer a two acre parcel of land to the government for the establishment of a recreational park and communal area for the Adelaide Village community; and to develop a wild duck sanctuary on five acres of government-owned land in partnership with the Bahamas National Trust.
The transferred land is valued at $250,000, according to Mr Christie, who said the park project would be undertaken in conjunction with the Maillis family.