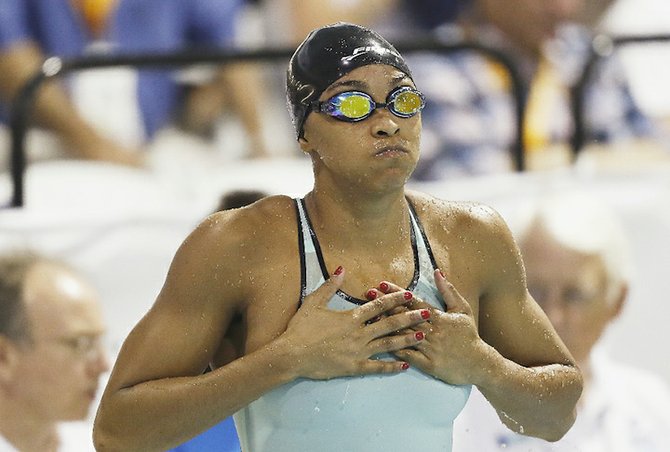 By BRENT STUBBS
Senior Sports Reporter
bstubbs@tribunemedia.net
Arianna Vanderpool-Wallace was just shy of her Bahamian women's national 50 metres freestyle record, but her latest performance in one of her two victories over the weekend plunged her into the top 10 SwimVortex rankings in the world.
At the Arena Grand Prix in Charlotte, North Carolina, professional swimmer Vanderpool-Wallace got a break from the meet management after she missed her swim in the A flight of the preliminaries. She was afforded the opportunity to compete in the B flight and she took advantage of it. Her time of 24.65 seconds pushed to the wall ahead of her SwimMAC team-mate Madison Kennedy, who followed with her lifetime best of 24.78 for 13th in the world, drawing the United States closer to its first top 10 for a sprinter in quite some time.
Trojan's Jessica Hardy, who has the ability to challenge any sprinter on the planet, took third in 25.46, while Ivy Martin placed fourth in 25.53.
Vanderpool-Wallace, 24, said she was quite thrilled by her performance, which has her listed at No.8 in the world. ¨Wasn't expecting that at all. I touched the wall and was like wow,¨ said Vanderpool-Wallace of her time. ¨I was working on my start lately, so it's finally hitting and that was kind of the key for me swimming that fast.¨
The Bahamian who is preparing for her third appearance at the Olympic Games in Rio de Janeiro, Brazil, in 2016, said it was good to have Kennedy in the field because she helped to propel her to the limit.
¨I could see Madison right there and we train together all the time so I kind of know she is coming for me and so I just put my head down and kept on going.¨
The performance enabled Vanderpool-Wallace to keep going as she came back and doubled up in the 50m butterfly, lowering her leading qualifying time of 26.47 to 26.28 in the final for another victory. This time, she triumphed over Kelsi Worrell, who did 26.56 for second with Kristel Vourna taking third in 26.64.
¨We've been working a lot on my fly lately,¨ said Vanderpool-Wallace of her training with coach David Marsh, her former coach at Auburn University where she had a stellar collegiate career before turning pro.
¨I never really trained for it. I kind of used it for racing in events, so we've been working on it a lot, working on the long course fly versus the short course fly, so it's important to swim fast in that also.¨
The three-day meet came to a close on Sunday with Vanderpool-Wallace taking the second fastest qualifying time into the final. After turning in 26.03, Vanderpool-Wallace experienced some problems on the home stretch as she clocked 55.36 to trail Allison Schmitt of North Baltimore, who did the best time of 55.25. Kennedy had the third best time of 55.77. In the final, she was fourth in 55.42. Schmitt won in 54.65.
Prior to swimming the 100 free, Vanderpool-Wallace admitted that her focus for the event in training was to improve on the final 50 metres. No doubt, she will continue to work on that when she returns to practice.