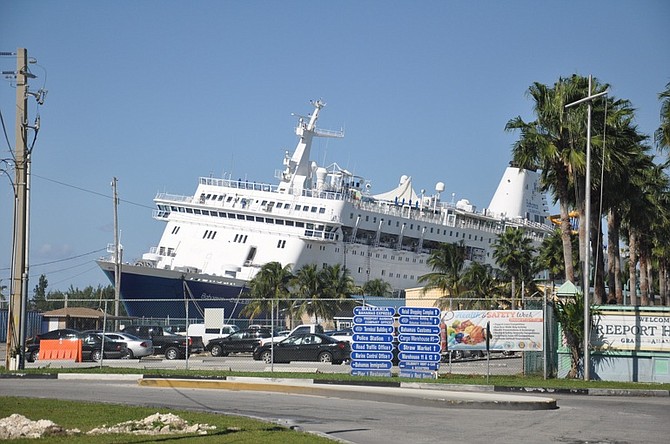 BY DENISE MAYCOCK
Tribune Freeport Reporter
dmaycock@tribunemedia.net
SEVEN hundred passengers and crew members were evacuated from the Bahamas Celebration after the cruise ship ran aground outside Freeport Harbour on Friday night.
Salvage crews have spent the day assessing the damage caused by "a small hole in the side of the vessel" after it ran aground 200 yards outside the port around 9pm. The ship returned to port and all passengers and crew left the ship safely.
James Verillo, owner of the Bahamas Celebration cruise line, said on Saturday afternoon that a small hole on the side of the vessel has been repaired and the ship is in no danger of sinking.
"The ship is listing at about 10 per cent and there is a whole host of professionals on board dealing with the issue. There was a small hole on the side of the ship that has already been patched," he said.
Mr Verillo said they do not know the cost of the damages at this stage. Earlier reports had suggested there was a 50-50 chance the ship might sink.
All passengers and non-essential crew-members, including casino staff, bartenders and waitresses have left the ship. Only technical staff are still on board. Passengers have boarded another ship and were expected to be returning to Florida on Saturday evening.
The cruise ship initiated emergency procedures and all passengers were instructed to put on life jackets when the vessel ran aground. Salvage crews have been assessing the damage since 2am on Saturday.
According to a statement issued by the Celebration Cruise Line, passengers were never in any danger and were being accommodated at various resorts on the island. It is not known how many passengers were onboard at the time.
"As a precaution, all passengers we're asked to put on life jackets and emergency steps were taken as the ship staff practices every week. No passengers were ever in any danger and everything was handled in an organised and efficient way by the ship," it stated.
The Celebration had been expected to return to the port of Palm Beach around 7pm on Saturday but the cruise line said it will remain in the Bahamas while damage can be assessed.
The cruise line has cancelled scheduled cruises for Saturday and Monday and all booked passengers will be notified and a refund or other arrangements will be made.
Celebration Cruise Line said they will issue more information at a later time. "Our focus at this time is taking care of our passengers who were on the ship or had planned to be on the ship over the next few days," it said.