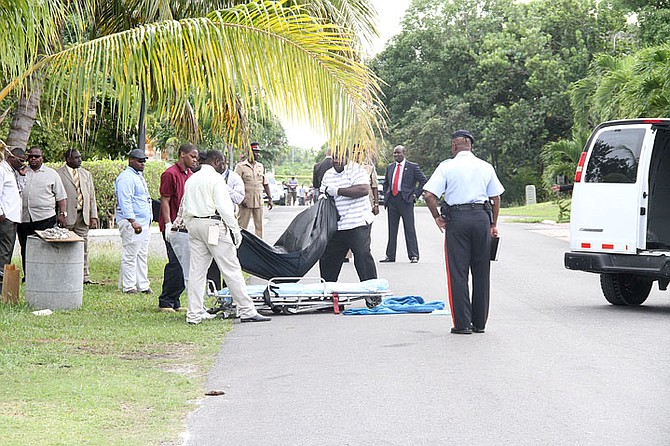 By SANCHESKA BROWN
Tribune Staff Reporter
sbrown@tribunemedia.net
THREE men were killed in three separate shooting incidents in less than 12 hours, taking the country's murder toll for the year to 106.
Police are also investigating two other shooting incidents that left three other men in hospital.
The latest killing took place yesterday morning off Carmichael Road.
According to Chief Superintendent Clayton Fernander, police were called to Inagua Way after gunshots were reportedly heard in the area. When officers arrived on the scene, they discovered the body of a man lying in front of a residence on the side of the street.
"Officers responded and found the lifeless body of a male that appeared to be in his early 30s suffering from a number of gunshot wounds to the body," Chief Supt Fernander said.
"The only information we are working with at this time is that persons heard gunshots around 10am and came out of their homes and met a young man lying on the side of the street. We also have information that a car was seen leaving the scene at a high rate of speed.
"We do not have the description at this time of the vehicle and we are also unable to say what the motive may be, but we are still in the early stages of our investigations. We have a number of Urban Renewal officers canvassing the area trying to gather information that could assist us in our investigations."
Earlier, around 1am yesterday, police were on the scene of another drive-by shooting, this time off Fox Hill Road.
Details of the incident remain sketchy, but police said a man was found lying outside a residence off Joe Farrington Road with multiple gun shot wounds in his body. He was rushed to hospital by ambulance, but died of his injuries a few hours later.
Chief Supt Fernander said police are not sure of the motive for this killing, but investigations continue.
Around 7pm on Monday, police were called to the scene of another homicide off Cowpen Road.
Police say the victim, who sources have identified as 48-year-old Holland Kevin Major Sr, was unloading Christmas packages from his vehicle when he was shot multiple times. He died on the scene.
Supt Fernander said police have no motive for this murder. Major was an employee of Doctors Hospital.
Police are also investigating two other shootings that left three men in hospital.
Around 9pm on Monday police said a man was standing in front of a building on Olde Corner off East Street, when he was shot twice by a male armed with a handgun. He was taken to hospital where he is listed in stable condition.
Earlier, around 7pm, police said two men were walking out of a bar on Carmichael Road when one was shot in the back of his head and the other was shot in his thigh.
They were both taken to hospital where they were treated for their injuries and then discharged.
Police do not believe the two shootings are related. They are asking anyone with information to contact them at 911 or 919, the Central Detective Unit at 502-9991 or Crime Stoppers anonymously at 328-TIPS.