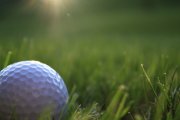 By RENALDO DORSETT
Sports Reporter
rdorsett@tribunemedia.net
SEVERAL months remain before competition officially tees off at the Pure Silk Bahamas LPGA Classic. However, event organisers have already taken on a local perspective.
Approximately 20 students and aspiring golfers participated in a one-day clinic at the Ocean Club Golf Course this weekend, facilitated by Swedish professional golfer Louise Friberg.
Friberg gave an overview of her path to professional golf before engaging in a question and answer period with the students.
The clinic also included a practical session as participants had an opportunity to take to the range themselves and learn the basics in swing fundamentals from the golf pro.
"Anywhere we go we like to reach out to the community and especially we do a lot for juniors so it means a lot to come here this early, because usually we do this the week of the clinic, but now we have a chance to come here early and meet the community before the tourney happens.
Friberg, on her first visit to the Bahamas, said she looks forward to competing in the 2015 edition of the Pure Silk Bahamas Classic this January, which also marks the commencement of the 2014 LPGA Tour.
"Other players have always told me how beautiful it is here and it's just an experience coming to the Bahamas itself. Most players wish we can stay another week just for vacation," she said.
"I've heard the course has been great, it's a friendly place to play, good tournament, good structure and just good stuff all around with the atmosphere and organisation so I'm excited to play."
In the first edition of the tournament, the junior development clinic was hosted by pro golfer Kathleen Ekey.
Last year, local pro Georgette Rolle was joined by Jennifer Song and Kris Tamulis as clinic instructors.
"It's all about giving back through the game and I love working with juniors and helping the growth and development of the game and on a personal note it helps me to find out the tips and tricks of the course," Friberg said.
"The main goal is for them to have fun and learn a thing or two. If I can motivate a few of them to continue with the sport I've done my job. It's all about them and having fun and friendships, getting to know each other and creating an inviting experience for them."
Billed as a star-studded event, approximately 108 players will compete on the 72-hole famed Ocean Club Golf Course for a chance to win nearly $200,000.
It will mark the third consecutive year the Ocean Club will host the Pure Silk Bahamas LPGA Classic, which takes place February 2-8 at the One and Only Ocean Club, Paradise Island.