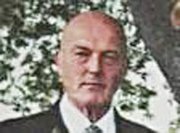 By DENISE MAYCOCK
Tribune Freeport Reporter
dmaycock@tribunemedia.net
GRAND Bahama police are no closer to solving the murder of wealthy British citizen Edgar Dart, who was shot and killed a year ago this week in Grand Bahama.   
Police press officer Inspector Terecita Pinder said the case is still open and high on their list of unsolved murders. A $25,000 reward was issued last year, but no credible leads have been generated in the case.
Dart, 56, was a wealthy farmer who lived in Canada. He traveled to Freeport with his 13-year-old son, George, to spend the Easter holiday with relatives in Freeport.
Sometime around 7am on April 8, three armed intruders broke into Dart's mother home in Emerald Bay taking the family of seven hostage. The intruders wore masks and were armed with a firearm and machete.
Dart apparently got into an argument with one of the men and was shot. His son, and mother, Joy, 79, and other relatives, watched helplessly as his he lay dying. His brother Colin and his wife, Alison, and their son, Luke, and relative Pip, were also at the residence.
The family was tied up with duct tape and robbed of jewellery and other personal items. The thugs then cut the phone lines before fleeing in the gardener's truck, which was later recovered by police.  
The Dart family owned a sprawling home in a very upscale canal front residential community. It is believed that the home has been put on the market, following the tragedy. The home sits on the prime location on the Grand Lucayan Waterway.
Although police have questioned some people in connection with the incident, no arrests have been made.
Dart's murder was classified as the island's sixth homicide for 2014.
American investor Anthony Welch, 47, was also murdered in his home on Albacore Drive, Lucaya, early last year. Mr Welch was discovered dead in his residence on January 24. He was bound with duct tape, and had been stabbed multiple times in the body.
Anyone with information that can assist the police in these and other unsolved murders on Grand Bahama are asked to call the police hotline at 352-1919, 351-9111, 351-9991 or Crime Tipsters at 300-8476 or contact the nearest police station.