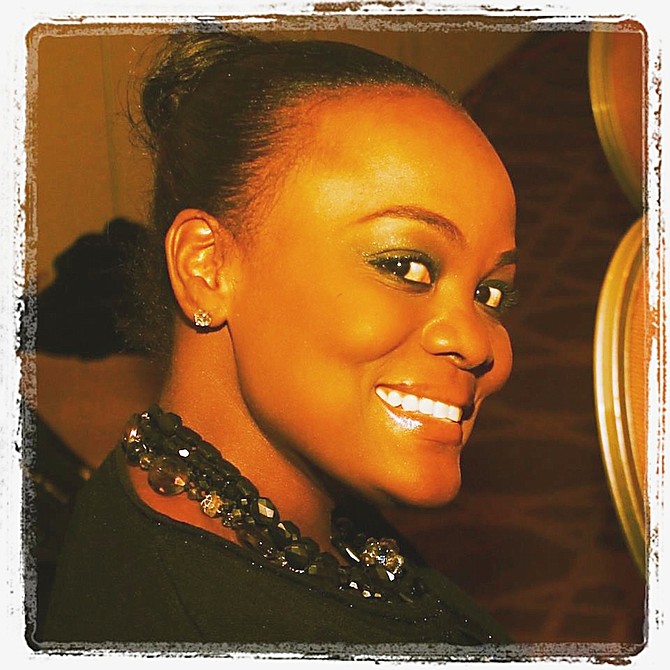 AS a result of her personal struggles with uterine fibroids, Santina Smith has founded a support organisation for women who are undergoing treatment for the condition and those who are coping with early menopause as a result of hysterectomies.
Called "Wombs of Promise", the organisation was launched in 2014 with the aim to reach as many women as possible, offering information on the adverse effects of hysterectomies, the process of surgery and awareness as it relates to uterine fibroids.
Uterine fibroids are defined as noncancerous growths of the uterus that often appear during childbearing years. According to the Mayo Clinic, fibroids range in size from seedlings, undetectable by the human eye, to bulky masses that can distort and enlarge the uterus. As many as three out of four women have uterine fibroids sometime during their lives, but most are unaware of them because they often cause no symptoms. Many doctors routinely perform hysterectomies for fibroid tumours even though newer, less-invasive treatments are available. Studies have shown that this dramatic operation is still being performed far more frequently than necessary.
Santina said the motivation behind her Wombs of Promise organisation came from her own experience, which she feels was not as informed as it could have been.
"I realised that I could've made better choices as it pertains to surgery options, but I wasn't well informed. I knew there were other women wanting the same information or just needed to identify with someone who went through what they are going through. I launched Wombs of Promise to do just that," she told Tribune Health.
For her, it's important to assist other women with something that is very personal to them. Through Wombs of Praise, she said, she is able to share her story and make others going through similar experiences feel less alone in their journey and their issues with fibroids and early menopause.
"Fibroids and early menopause have an incapacitating effect on the quality of life of various women, with unpleasant effects on emotional social functioning. (The organisation) is important because I am able to shine a light on something that is considered taboo to talk about for many women, but yet so many women are affected by it, so it can't be ignored," said Santina.
Along with board members Valarie Lynes, Loukeshia Cooper and Shena Johnson, all of who have been affected by uterine fibroids, the long-term goal of the organisation is to lessen the numbers of hysterectomies performed on women with gynaecological problems each year in the Bahamas and other Third World countries.
"We understand that this is not a quick fix, but we are prepared and ready to see that every woman is knowledgeable of the various options available to them before having a hysterectomy," said Santina.
Offering this kind of information as well as a broad range of health and wellness topics, the Wombs of Promise team will play host to a breakfast seminar event entitled "Healthy Fit & Fabulous", to take place at J-Line Fitness on January 9, from 9am to 11am.
Santina said the event is for women who desire to get a jump-start on their health and fitness goals for the new year. Guest speakers and presenters will share information on their personal challenges with weight loss, balancing work, life and relationships, and the ability to overcome obstacles and live healthy, fit and fabulously.
Tickets are priced at $20 and can be obtain at J-Line Fitness and online through the Wombs of Promise Facebook page. All proceeds benefit the Wombs of Promise Free Community Women's Health Clinics.
Guests can enjoy a continental breakfast along with exercise tips and tricks that you can do anywhere with co-host Amy Sands, a yoga demonstration with Franchesca Saunders, and healthy cooking and smoothie making demonstrations with Sha King. Door prizes will be available courtesy of LIVE LOVE & LUX, Scharad Photography, Pretty Girl Accessories 242 and others.
"We are also excited to introduce 'The Lifestyle' pop-up boutique as another phase of this inspiring event which will be open to the public with the promise of providing an amazing shopping experience through our preferred beauty, fashion and lifestyle vendors," said Santina.
She said the suggestions and advice women at the event will obtain will transform their way of thinking and give them a push in the right direction of living purposely beautiful and healthy lives.
"I believe we only know as much as we know, and we cannot go beyond that until we access additional information. The message of health and wellness is not comprehensible to many who really need it. There must be more done to provide the accurate information to the right individuals. We must also be more creative and innovative in our methods, approach and ideas of distributing the message of the importance of good health and wellness," said Santina.
Wombs of Promise has already launched its 2016 campaign called #NO2Fibriods to match the global movement of the same name. The campaign asks women to turn their Facebook profile photos into the photos with the hashtag to bring awareness to uterine fibroids. The public can also look forward to more fabulous fundraisers and events that will assist the team in their efforts to bring awareness, Santina said.