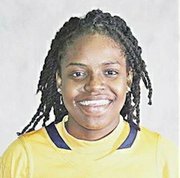 GEORGE Washington senior Jonquel Jones was named to the John R Wooden Award Women's Preseason Top 30 on ESPN's SportsCenter and on espnW yesterday morning.
The list, which is chosen by a preseason poll of national women's college basketball media members, is comprised of 30 student athletes who are the early front-runners for college basketball's most prestigious honour.
The 2015 Atlantic 10 Player and Defensive Player of the Year, Jones averaged 15.3 points and 12.5 rebounds per game last season and was the only player in the conference to average a double double. She led the league and ranked sixth nationally in rebounding while finishing sixth in the conference in scoring, and she posted a league-best 20 double-doubles, 10th-most in the NCAA.
A seven-time A-10 Player of the Week in 2014-15, Jones was named an All-America honourable mention by both the Associated Press and Women's Basketball Coaches Association (WBCA). In addition, she was named the Most Outstanding Player of the Atlantic 10 Championship after leading the Colonials to their first conference title since 2003.
The 6-foot-4 forward from Freeport, Grand Bahama, set a school record with 375 rebounds last season, and she ranks 15th all-time at GW with 635 in her career.
Jones is the only player not from the ACC, Big Ten, Big 12, SEC, Pac-12 or American Athletic conferences selected to the John R Wooden Award Women's Preseason Top 30.
Jones is the first Colonial to be named a preseason candidate for the Wooden Award since Jessica Adair in 2008.
The John R Wooden Award National Ballot will consist of 15 top players who have proven to their universities that they are also making progress toward graduation and maintaining at least a 2.0 cumulative grade-point average. The Wooden Award All-American Team, consisting of the nation's top five players, will be announced the week of the Final Four.
The 40th annual presentation of the John R Wooden Award is all set to take place during the ESPN College Basketball Awards Show presented by Wendy's.
The Wooden Award Weekend scheduled for April 7-9, 2016, will honour the male and female Wooden Award winners, the top five All-Americans and the Legends of Coaching recipient.
Created in 1976, the John R Wooden Award is the most prestigious individual honour in college basketball. It is bestowed upon the nation's best player at an institution of higher education who has proven to his or her university that she is making progress toward graduation and maintaining a minimum 2.0 cumulative GPA.
Connecticut's Breanna Stewart won the 2015 John R Wooden Award.