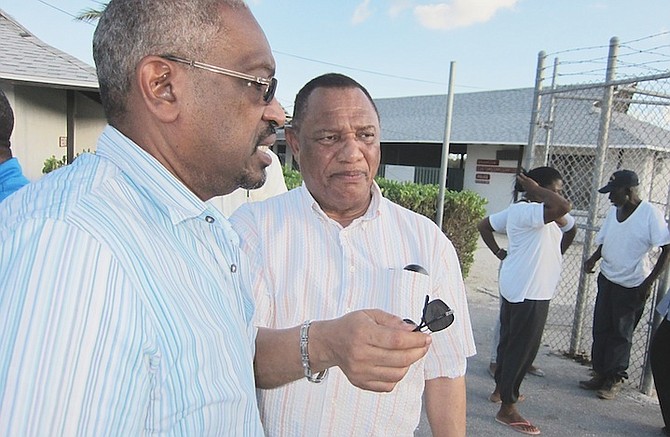 By RICARDO WELLS
Tribune Staff Reporter
rwells@tribunemedia.net
PRIME Minister Perry Christie yesterday insisted that the clean up effort in the southern islands left devastated by Hurricane Joaquin "is going to be a long process".
He said while the government has not determined the full extent of the necessary relief and rebuilding effort, his administration understands that it has "to be in this for the long term."
He spoke to The Tribune on the second day that he led a government delegation to visit an area affected by the storm. The group left New Providence around 4pm en route to Long Island. Free National Movement leader Dr Hubert Minnis and several members of his party also accompanied Mr Christie on the trip.
Mr Christie said the infrastructure of the affected islands have to be reconstructed, a job he said the government is already working to address.
"The government has been deploying technical people throughout the areas that have been affected by the hurricane. We have tried to ensure that at the same time we get relief out like water, supplies, (and) food. We have put a lot of effort behind BTC, going out and sending teams out to bring the communications system back up because it's very difficult when you have to rely on satellite phones," stated Mr Christie.
He added: "The general public has a tremendous concern for family members, we're being questioned, beseeched about the safety of members. Even the Cuban embassy has asked about the safety of two teachers in the south of Long Island and I have given the assurances that they are safe."
The Centreville MP added that the United States has donated tons of aid and relief teams will also collect items from a warehouse in Coral Harbour for daily disbursements to islands in need.
Among the islands said to be hardest hit by Hurricane Joaquin are Rum Cay, Acklins, Crooked Island, Long Cay, San Salvador and Long Island.
Electricity and phone lines remained down in most of those areas up to yesterday.
Mr Christie also said the government has been aided by US relief teams who have used helicopters to take representatives of the National Emergency Management Agency (NEMA) and the Royal Bahamas Defence Force (RBDF) into the affected areas.
He said Deputy Prime Minister Philip Davis has raised a lot of supplies for his constituency (Cat Island, Rum Cay and San Salvador) and spent the past two days delivering the items.
He added that aid is also on the way from Jamaica to bring relief to Acklins and Crooked Island.
"So all in all, our efforts are calculated to ensure that we have taken into account that our people are suffering greatly as a result of this, those who live in the affected areas. We are trying to bring relief that I'm sure will be welcome as quickly as possible."
"Between the various agencies of the government, NEMA, assistance we are receiving, we are relatively comfortable with where we are in terms of being able to put in place the basis of a massive effort of restoration . . . we do not know and have not assessed the extent of personal loss of homes."
Mr Christie said as the government is co-ordinating relief efforts, he is thinking of ways his administration can learn from this event and put in place measures to best handle disasters in the future.
He said the government is thankful that there was no loss of life associated with the storm; saying that stories of survival from people who were trapped in homes with water coming "up to their chests" have been "harrowing".
Meanwhile, Dr Minnis said now is the time for the country to be unified and leave divisive politics out of the equation.
"I think at a time like this, a natural disaster is a time when you should preach unity ... after all Joaquin came in, Joaquin did not decide which was red, which was white. It just destroyed the southern islands," the FNM leader said.
He sent out a request for churches around the country to preach messages of unity and ask for donations for victims. He also urged schools to organise donations and ask each student to bring a non-perishable item for the relief effort.
"With respect to the FNM, yes we're working with the government, helping to bring unity, but we have supporters who would be suffering also. So we are organising. . .we had three planes that went into San Salvador carrying supplies and different things that are needed – we have other relief items – but it will all go through NEMA and dispatched via that mechanism."
"We also have a list of contractors on standby that are prepared to go down to various islands and assist with repairs of homes and whatever else and agreed to volunteer their services," Dr Minnis said.
The prime minister has spent the last two days travelling to some areas affected by Hurricane Joaquin.
He returned to New Providence from Long Island shortly after 9 o'clock last night. The delegation also did an aerial assessment of San Salvador yesterday, but did not land on the island.