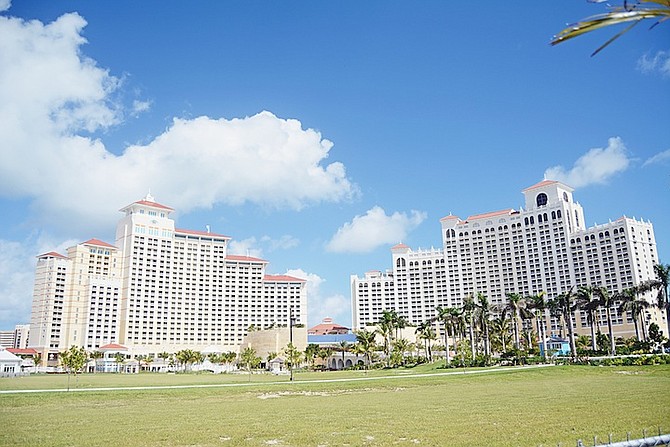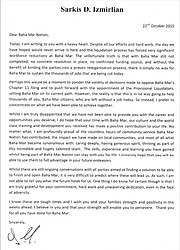 By SANCHESKA BROWN
Tribune Staff Reporter
sbrown@tribunemedia.net
MORE than 2,000 Baha Mar employees have been made redundant effective today, according to a statement from the resort's joint provisional liquidators.
Justice Ian Winder granted approval in the Supreme Court on Thursday morning to Baha Mar's court appointed joint provisional liquidators' request to make layoffs.
The layoffs affect approximately 1,440 non-active employees and approximately 580 active employees, including members of management and line staff, the statement said.
The layoffs did not affect the Melià Nassau Beach Resort.
Employees' final salary payment will be made on October 26 and will not include severance or redundancy pay.
The joint provisional liquidators, Bahamas-based KRyS Global and UK-based AlixPartners, said the layoffs were due to the financial insolvency of the $3.5 billion resort project that has been stalled since June 29.
Ed Rahming, KRyS Global managing director, said the layoffs are "difficult on everyone" but "it further highlights the urgency for everyone to remain at the negotiating table and maintain the dialogue that may lead to a resolution, a re-start of construction and the completion of the Baha Mar project."
Alastair Beveridge, of AlixPartners, said it was not fiscally responsible to pay staff "who were not doing work."
"We were paying housekeeping staff when there was no housekeeping to do, spa staff when there was no spa, casino staff when there was no casino to operate," Mr Beveridge said.
"Thanks to monies that were made available to us by the government from funds that were due to Baha Mar for road construction works, we were able to keep these staff members on as long as we did. We know that they have obligations, that many of them gave up other jobs to join the Baha Mar dream team and now we are continuing to focus on how best to make that dream a reality."
In a letter to the resort's staff, the liquidators said Baha Mar is not in a position to pay any severance or redundancy packages "at this time."
"All payments due to employees other than earned and unpaid salary for the month of October through October 23 will rank as a claim against the company that your employer has a contract with," the letter said.
"Employees are entitled to submit claims, as applicable, for any accrued or unused vacation, pay in lieu of notice, redundancy, earned but unpaid salaries, declared but unpaid bonuses and repatriation expenses."
The statement said management and staff who were made redundant are being offered assistance in development of CVs and resumes and in job-hunting. Staff members were retained to provide assistance in job skills development and life skills, with employment workshops scheduled to run from October 29 to October 31, the liquidators said.
Anger
Some Baha Mar employees yesterday expressed anger and hurt over the layoffs. One woman, who spoke to The Tribune anonymously, said she "can only pray that God sends something her way soon."
"From this whole thing started, I began looking for another job because I knew this day was coming but that doesn't make it any easier," she said.
"I left a great paying job because I bought into the Baha Mar dream, which has now become a nightmare for me. I have no other means of income and I have been sending out my resume but I have not gotten any responses back. This is a blow. This is hard."
Another employee said she is thankful she had the "common sense" to save money while she had a job.
"This is hard for me but I have some savings that I can live on, hopefully I will be able to get something else before that runs out. This is a shock to me, we kept getting promises that the resort would open soon but I guess it's true when they say, a promise is a comfort to a fool," she said. The firings come days after Tribune Business reported that Baha Mar's joint provisional liquidators were terminating employees who have been "double dipping" by continuing to pocket a regular pay cheque despite finding another job.
According to a letter sent to one employee, which was seen by The Tribune, Mr Rahming asked the worker to return all company property and "reimburse the company with all salary and benefit payments received after the date from which you commenced employment with another company."
In September, Justice Winder approved the government's petition for the appointment of provisional liquidators for the stalled Baha Mar resort development to prevent the depletion of the $3.5 billion resort's assets.
The government is seeking to wind up Baha Mar Ltd, Baha Mar Land Holdings Ltd, Baha Mar Properties Ltd, BMP3 (Wyndham Hotel) Ltd, BMP Golf Ltd, Cable Beach Resorts Ltd and Baha Mar Enterprises Ltd.
On June 29, Baha Mar and 14 of its affiliated companies filed for bankruptcy in a Delaware court, blaming the resort's contractor, China Construction America (CCA), for the construction delays that caused it to miss previous opening deadlines. However, the bankruptcy claims for Baha Mar's Bahamian-based companies were later thrown out of the US court.
A Supreme Court hearing is scheduled for November 2 for the resumption of the liquidation proceedings.