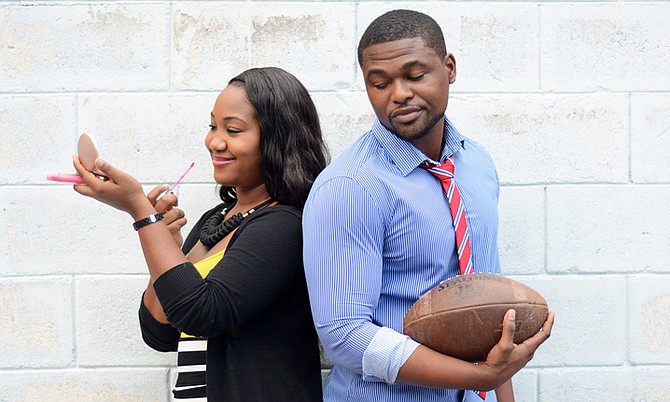 Week 2 Awards
The "You Can't Lose Your Job To Injury Or EXTREME Age Concerns" Award presented by the PLP Leadership Race - Cleveland Browns quarterback controversy. Despite leading the team to a 1-1 start and actually looking like a semi-dependable NFL quarterback, Johnny Manziel will lose his starting job to 36-year-old journeyman Josh McCown. Old guys rule.
The "I Feel Like We've Seen This Before And We Know It Doesn't End Well" Award presented by the US Planning To Arm Anti-ISIS Rebels - The Cowboys injury carousel. First Dez Bryant, then Tony Romo, now Jason Witten sprains both ankles. When Darren McFadden is the healthiest person on your team, you know things are bad.
The "What A Time To Be Alive" Award presented by Drake and Future - Quarterback and wide receiver tandems that dominated through the air. The week was full of them - Matt Ryan and Julio Jones, Carson Palmer and Larry Fitzgerald, Ben Roethlisberger and Antonio Brown, Tom Brady and Rob Gronkowski.
WEEK 3
By RENALDO DORSETT
Sports Reporter
rdorsett@tribunemedia.net
What a time…to be alive. We live in a season where the Bucs, Raiders, Jags, Browns and the team from Washington all won on the same day. And I promise you this wasn't at a Madden tournament. A season where two of the four teams considered lead pipe locks to make their conference championship games are currently winless. It's the NFL in all its stupid, horrible to bet on, but fun to watch parity (Can I say that? Is that legal here now? I'm not sure about how any of this or how numbers and gambling works. The rallies were fun though).
Washington's Football Team at New York Giants
SANNIE: I think I'm going to go with Washington on this one, despite the fact that Robert Griffin is one of the ugliest men I think I have ever seen.
WASHINGTON over
Giants
RENALDO: What a difference a few weeks make. We looked at the NFC East as possibly the toughest in the NFL, rife with legitimate SuperBowl contenders…and Washington. Now a week three throwaway Thursday night game will probably have major tie-breaking implications. We may never say this sentence again in the NFL but the 0-2 Giants may be the odds on favourites to win the division. If Victor Cruz ever comes back and if Eli ever learns end of game math for clock management situations, the Pats' kryptonite could be gearing up for another run. It would be great if they could get Victor Cruz off of a commercial set and onto a football field though. It may help.
GIANTS over
Washington
Cincinnati Bengals at
Baltimore Ravens
RENALDO: Terrified of going all in with the Bengals. They look great, all signs point to them being great, there's just that lingering "yeah but" hovering over every win until they get it done in the playoffs. The Bengals are a hot girl that finally goes on a date with you after you spent weeks in her Facebook or Twitter DMs, only to show that crazy possessive side for the simplest reason - "I still don't see why you have to hug your cousin, she sees me standing here." Long term, my heart won't allow me to trust the Bengals, but for this game, heads and shoulders above the Ravens.
BENGALS over Ravens
SANNIE: The Ravens made my co-host Eddie very happy when they let the Raiders beat them last week. I can not pick them this week! They are officially on a time out.
BENGALS OVER Ravens
New Orleans Saints at
Carolina Panthers
SANNIE: Hey Cam Newton. (I think I can only get away with saying this one more time before I get dumped)
PANTHERS over Saints
RENALDO: One day Cam Newton's going to read this column and you're either going to have to step up or have your bluff called. We've spent the last few years contemplating how much Peyton Manning and Tom Brady had left in them to continue at this level, but we've completely missed the fact that Drew Brees may be done. They didn't just start this season 0-2, but they've lost six games at home dating back to last season, have a 25th ranked defence and now Brees may miss extended time with an injured rotator cuff. Sean Payton may be counting down the days until Mardi Gras.
PANTHERS over Saints
Tampa Bay Buccaneers at Houston Texans
SANNIE: My oldest brother Donavon brought me luck last week, with the Bucs, so I'm going to ride with them again. If we win, I will babysit for you Mr Clarke! Don't screw this up!
BUCS overs Texans
RENALDO: The "Hard Knocks" curse continues as the Texans have become the latest victim. Alex Smith is a veteran poised checkdown machine, Cam Newton is a duel threat superstar but if this defence can't rattle Jameis Winston this week, they're better off playing JJ Watt at tight end full-time, because the season would be over.
TEXANS over Bucs
Jacksonville Jaguars at New England Patriots
SANNIE: I think Tom Brady is my good luck charm. (I made that up,  but I had to say something other than Tom Brady is sexy, to keep my relationship strong).
PATS over Jags
RENALDO: Or it could be the fact that he's the most dominant quarterback on one of the most dominant teams of any era and they just came off their fourth Super Bowl win. That or he's a good luck charm, either works. One win against the AFC East will be all there is to this Jaguar winning streak. This is exactly what we thought we would get from the "us against the world" version of the Patriots right. About 70 points in two games. If you thought the evil empire wasn't making a concentrated effort to destroy opponents, consider this - the Pats led nearly wire to wire Sunday against the Bills, but ran the ball just 12 times. Brady on the other hand, threw 59 passes.
PATS over Jags
Philadelphia Eagles at New York Jets
SANNIE: Leonard Williams is my new hair crush. Me and every other black woman who decided to go natural. (P.S I am not natural but if I were, I would want his hair)!
JETS over Eagles
RENALDO: I really want to know how you found Leonard Williams because it's easily the most obscure reference you've ever made. One of the quickest lessons we've learned from this season, the Jets defence is for real. This is what your defence looks like when you spend millions of dollars in the offseason (I'm looking at you Miami Dolphins). "Gang Green" has forced a ridiculous 10 turnovers in two games, making the job easy for Ryan Fitzpatrick and the offence to just put something, anything up on the board. Remember Tecmo Bowl when you would guess the right buttons (or cheated like my brother did) that your opponent picked and the defence would send that overwhelming swarm of bees looking blitz? That's what the Jets look like all game. Also, thank you to the Eagles for making the DeMarco Murray signing the only free agent move worse than Ndamokung Suh.
JETS over Eagles
Raiders at Browns
SANNIE: Sigh, this is a tough one. Last week I totally gave up on the Browns and vowed to never pick them again but I also vowed never to pick the Raiders and make Eddie happy. What is a girl to do? I know, try  to make Eddie very, very sad.
BROWNS Over Raiders
RENALDO: Here's what shouldn't have been a tough one - Mike Pettine officially handing the reins over to Johnny Manziel. This was his opportunity to do so and I don't think anyone understands why this hasn't happened. If you draft a quarterback in the first round, you expect him to be the franchise guy. If that guy leads your historically woeful team to win, Manziel is sent back to the bench for injury prone stop-gap-solution Josh McCown. It's almost as if Pettine has never seen "Any Given Sunday."
RAIDERS over Browns
Falcons at Cowboys
RENALDO: This is the Falcons team that the last three years of Madden have told me should exist, and all it took was the semblance of a reliable running game and people that wrap up when they tackle. Also, Matt Ryan has been on fire late in games completing 14-20 passes.
FALCONS over Cowboys
SANNIE: I hope you guys have been watching  'Don't be Tardy".  I think being on the show has caused Kroy to be a better player (in my head at least).
FALCONS over Cowboys
Colts at Titans
RENALDO: Yes, they played two of the top defences in the league, the depleted secondary was expected to struggle, even the veterans would have some hiccups learning a new system and adjusting to a new leader. No, none of it should matter or should be any excuse as to why this team is 0-2. The Colts started last season with the same record before they eventually reeled off five straight and finished 11-5. However, those opening season losses in 2014 were by a combined total of 10 points. This year's team has lost by 13 in each game. This is as early as we can get for a must win game because statistically speaking, there's no coming back from 0-3.
COLTS over Titans
SANNIE: Marcus Ardel Taulauniu Mariota translated in English means "he who is handsome".
TITANS over COLTS
Chargers at Vikings
RENALDO: Phillip Rivers has been used to playing hero ball for so long, I don't think he knows how to let a running game help him. Melvin Gordon's the guy Phillip, trust him, believe in him, give him the ball.
CHARGERS over Vikings
SANNIE: A Viking just sounds like they can beat a Charger. It sounds stronger. I hope they're ready for battle.
VIKINGS over Chargers
Steelers at Rams
RENALDO: Le'Veon Bell being back means the Steelers finally have an opportunity to see the offence they expect to put on the field for the rest of the season. It's great for Steeler fans, but terrible for DeAngelo Williams who has the worst timing of any player in NFL history. After years of battling Jonathan Stewart in the Panthers backfield for years, he signs with the team that already has the most versatile back in the league. Williams has 204 yards and three touchdowns through two games…but it means nothing because he goes back to the bench. The running game may be a moot point though because Big Ben has successfully targeted Antonio Brown 18-22 times for 328 yards and two touchdowns.
STEELERS over Rams
SANNIE: Since no one seems to be attractive on any of these teams,  I will just choose the Steelers. No real reason, just because.
STEELERS over Rams
Bills at Dolphins
SANNIE: TCBY two weeks in a row, even though the Dolphins lost. At this point I think I get treats now, just for choosing the Dolphins.
DOLPHINS over Bills
RENALDO: Well, score one for Pavlonian conditioning. The Bills are for real. I'm not sure If I was more impressed at their win over the Colts or their loss to the Patriots. Meanwhile I just watched the Dolphins lose to the Jaguars. All hope has been exorcised and I can pick pragmatically now. What was supposed to be a vaunted defensive line has looked like the worst in the league and didn't even remotely phase second year quarterback Blake Bortles last week.
BILLS over Dolphins
Broncos at Lions
RENALDO: It was late in the second quarter of the Chiefs game. Peyton Manning overthrew a receiver one play and followed with a simple, seven-yard hitch that hung in the air for 11 real seconds. I counted. That's when I knew it was over. In comes Andy Reid and his notoriously God awful play calling and clock management, an Aqib Talib interception and Manning was granted a reprieve. The Sheriff lives! For another week at least, let's see how this one plays out.
BRONCOS over Lions
SANNIE: Peyton Manning is unattractive but apparently a good player. Let's go Broncos!
BRONCOS over Lions
Bears at Seahawks
SANNIE: Ok, Russell, I am trying not to give up on you. Let's go man, we can do this!!
SEAHAWKS over Bears
RENALDO: Here's how bad the first two weeks have been for the Seahawks. They went winless, Russell Wilson still hasn't had sex with Ciara yet, the Lynch family is unhappy with playcalling, Pete Carroll starts the game looking as confused as he would be if he had to teach an Ebonics class, Jimmy Graham is complaining about a lack of touches and Future's mixtape with Drake is about to go gold in a week. It's chaos in the Northwest right now, but all order can be restored once the 12th man gets a chance to host the Bears. The Bears with Jay Cutler are slightly below average and the Bears with Jimmy Clausen belong in the Big 10.
SEAHAWKS over Bears
Chiefs at Packers
SANNIE: I have literally never heard of anyone who plays for the Chiefs, not one person. I have however, heard of Clay Matthews and Aaron Rodgers, so I'm gonna go with them.
PACKERS over Chiefs
RENALDO: There's a reason Aaron Rodgers is always in primetime. It works. He told us to relax last season after a slow start, he told us to relax when Jordy Nelson got hurt, in fact if Aaron Rodgers told me a Bahamian government was going to be transparent I would believe that too. Ignorance is bliss.
PACKERS over Chiefs