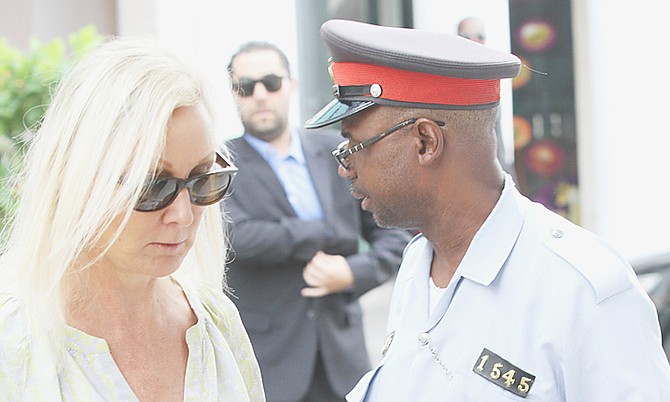 By LAMECH JOHNSON
Tribune Staff Reporter
ljohnson@tribunemedia.net
DONNA Vasyli yesterday opted out of giving testimony under oath concerning the events that led to her millionaire podiatrist husband's lifeless body being discovered at their Old Fort Bay home earlier this year.
Her lawyer Murrio Ducille told the court that the 55-year-old widow would "remain silent."
Mr Ducille said his client would rely on her video-recorded interview in police custody along with the evidence of a dermatologist, meteorologist and the statement of her nephew to police given on March 29.
Before the witnesses' evidence was given, Mr Ducille, in an opening address to the jury, said the Crown "has thrown a jigsaw puzzle out there and asked you to put it together."
He added that the jury had already seen the video interview.
"There's nowhere in anything recorded (that) Donna Vasyli said she's responsible for the murder of (her) husband," the lawyer said, stressing that there was no DNA evidence placing her at the scene of the stabbing which can still be determined as self-inflicted based on the medical evidence revealed previously.
Mr Ducille said there was no evidence for the jury to feel sure that the accused should be convicted of a murder charge. The accused's legal team entered a statement from Mitchell John Matthew into evidence, which was read into the record.
Mr Matthew, the accused's nephew, was questioned by Inspector Michael Johnson in the presence of his lawyers, Elliot Lockhart, QC, Murrio Ducille and Judith Whitehead around 3pm.
It was suggested to him that he was at the Vasyli's home on the afternoon of March 23.
Mr Matthew said that was correct.
"Mr Vasyli and Mrs Vasyli were at their residence with their guests. Do you know who they were?" Inspector Johnson asked in the interview.
"That was the first time I met them that afternoon," Mr Matthew said.
"While there, can you describe Mrs Vasyli's demeanour?" the investigator asked. The nephew said his aunt was "just like any other day, she was welcoming and eager to show her guests her new home."
Mr Matthew agreed that the podiatrist appeared to be drunk that day.
"While you were there, they got into several arguments over his behaviour," the investigator said.
Mr Matthew answered: "Not to my knowledge."
"What time did the guests leave?" the investigator asked. Mr Matthew said they left at "6 or 6.30pm" and he left 15 minutes after they did.
"Where were they after you left?" the investigator probed.
"At the guest cottage," the nephew answered.
Mr Matthew was asked where he went after leaving the Vasylis' residence.
"I went to Lily Pond, Lauren's (the accused's daughter's) house. We planned to have dinner that night," he said.
He was asked if it was dark when he left, but said it was not.
"When you went to your bedroom at Lauren's house, you met Mrs Vasyli there?" the investigator suggested.
Mr Matthew said after dinner with Lauren and another person, Quinton de Graaf, he went upstairs to pack because he was headed to Australia the following day. When he returned downstairs, "Donna was there" the jury was told.
He said this was "roughly around 9 or 10pm."
"You knew when she came there?" the investigator asked.
Mr Matthew said he did not.
"Mrs Vasyli informed you that she had just murdered Philip Vasyli," Inspector Johnson suggested next.
Mr Matthew said "no" and denied assisting his aunt in getting rid of the clothing she wore when allegedly killing her husband.
Earlier in the hearing, the accused's lawyers called Dr Rochelle Knowles to give evidence about the marks on the widow's hands that were photographed by police during her time in custody.
Dr Knowles said she conducted laser treatment on the widow's hands on March 17 and informed her that for up to 10 days there would be scabs before new, fresh skin would be visible.
Dr Knowles said she'd done a similar treatment for Mrs Vasyli back in August 2012.
"Did you know Philip Vasyli?" Mr Ducille asked the witness.
Dr Knowles said she did, but had not seen him since 2010 after performing a number of treatments on him.
Vasyli's other lawyer, Elliot Lockhart, QC, called meteorologist Jeffrey Simmons to the stand and asked if he knew when sunset had occurred on March 23.
Mr Simmons said the sun set at 7.22pm on that date.
When cross-examined, Mr Simmons said there would have been a dusk period between 7.22pm and 7.45pm before it was completely dark.
The trial continues today when Crown and counsel for the accused will give their closing addresses to the jury.